Delight is order of the day for 'Twelfth Night' at TNT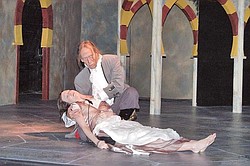 Photo
Alyssa Connelly stars as Viola, and John Timmins stars as the Captain who make it to shore just after a shipwreck in Shakespeare's comedy "Twelfth Night."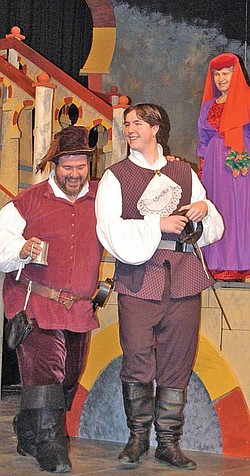 Photo
'TWELFTH' ROLES: From left, Tom Schaffer as Sir Toby, Mike McGrail as Sir Aguecheek and Sophie West as Maria.
NILES — Trumbull New Theatre sticks to its strengths with "Twelfth Night."
It may not have the zing that a Shakespearean troupe might give it, but it compensates with an ease and understandability that assures the theater patron is rewarded.
Friday's opening-night audience came away thoroughly satisfied. There was no mistaking the emotion that ran through the small theater at the culmination.
Director Tom Hitmar takes pains with each scene, making sure no one is lost along the way. Despite Shakespeare's age-old language, the meaning of each scene is imparted like a well-laid building block.
Lines are delivered at a moderate pace, but the scene changes are rapid and the play flows briskly, wrapping up in just over 21'Ñ2 hours with intermission.
You can credit the core of actors for building this sturdy comedy from the ground up.
Denise Glinatsis Bayer is Olivia, the noble lady at the center of the tale. Bayer, who proved her skills in last summer's "A Midsummer Night's Dream" at Morley Pavilion in Youngstown, again shows that she is a natural at Shakespearean roles.
Equally impressive is Thomas Schaffer, who plays Sir Toby Belch, the rollicking, boozing rascal who lends further authenticity with his ruddy face, mischievous demeanor and command of his role.
Toby's sidekick is the not-so-bold Sir Andrew, played by Michael McGrail.
"Twelfth Night" revolves around twins — Viola and Sebastian — who are stranded in a strange land after a shipwreck. Each believes the other is dead.
Viola is played by Alyssa Connelly, who marvelously holds the tale together as a character whose circumstances are constantly changing. Viola dons the guise of a man and becomes a servant of Orsino, the Duke, whom she desires.
Orsino sends the male-version Viola to convey his message of love to the uninterested Olivia. Things get sticky when Olivia is instead attracted to Viola, whom she believes to be a man.
Ron Wolford is pitch-perfect in his rendition of the proper but lovelorn nobleman Orsino.
Not really a part of this love whirlpool but an integral part of the cast is Malvolio, the stern and foolishly vain servant of Olivia. Kyle Merritt creates a Malvolio in the mold of a centuries-old Dwight Schrute from "The Office," and the character delights.
Providing wisdom, wit, wordplay and music is the multitalented Alan Purdum, who plays Feste, the court jester. Purdum researched the music of the era and performs it with guitar, flute and drum as part of his role.
In a smaller but important role is Richard Boccia, who cuts a strong figure as Sebastian, the male half of the twins. Kathy Purdum and Sophia Axiotis-West play Olivia's servants. They are proper ladies, but they're not afraid to join in on a gag — especially one that would knock the insufferable Malvolio down a few pegs.
Worth noting is the colorful set, which serves as the court of both Lady Olivia and the Duke Orsino. The two-level design makes TNT's small stage seem bigger than it is.
X"Twelfth Night" will be performed at 8 p.m. Friday, Saturday and Jan. 22 and 23 and at 3 p.m. Jan. 24. Trumbull New Theatre is at 5883 Youngstown-Warren Road, Niles. Call (330) 652-1103 for reservations.