Valley pipe producers expect more penalties on imports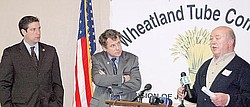 Photo
STEEL UPDATE: U.S. Sen. Sherrod Brown, D-Ohio, and U.S. Rep Tim Ryan listen as Roger Lindgren, president of V&M Star, explains a recent trade ruling. They spoke at a press conference Thursday at Wheatland Tube's Warren plant.
A second trade case would carry larger duties against Chinese pipe producers.
By Don Shilling
WARREN — The best is yet to come, say two local pipe producers who are fighting Chinese imports.
V&M Star Steel and Wheatland Tube officials said Thursday they are counting on the federal government to enact a second set of penalties on Chinese pipe producers.
This next round would be more significant than the first.
The U.S. International Trade Commission last week approved duties of about 13 percent on Chinese imports of oil-country tubular goods, which is pipe used for oil and natural gas exploration.
That case upheld claims by U.S. producers that China was providing unfair subsidies to its producers.
The next case alleges that China dumped pipe, which means selling it for less than the cost of production. A final ruling is expected in April, but a preliminary ruling has called for duties of 96 percent on most Chinese producers, said Roger Lindgren, V&M president.
"That is huge. China has been abusing the law," he said.
Lindgren said he has no reason to believe the duties for the second case won't be approved.
Adding a potential 96 percent duty to the 13 percent approved last week would go a long way to protecting American jobs, said Sen. Sherrod Brown, a Democrat from Avon, and U.S. Rep. Tim Ryan of Niles, D-17th, who arranged a press conference at Wheatland Tube's Warren plant.
Bill Kerins, Wheatland Tube president, said the effect of the duties will be delayed, however.
In the few months before the dumping case was filed, Chinese producers sent massive amounts of pipe to this country because they learned of the case, he said. It will take 10 to 12 months to work off that inventory, he said.
Eventually, however, the duties will help Wheatland and V&M increase production because the local plants won't be competing against artificially low prices, the executives said.
Kerins said Wheatland Tube's Warren plant, which produces the company's oil-country tubular goods, has 30 of its 145 workers laid off. He said he would expect those workers to eventually be called back and added that more workers may be needed.
He noted that drilling for oil and natural gas is expected to increase, which will increase demand for the plant's products.
Lindgren said V&M's Youngstown plant is running at about 50 percent of capacity, largely because of the Chinese imports. None of its 500 employees are laid off, however. About 80 percent of the plant's pipe is used for oil and natural gas exploration.
Lindgren declined to comment on the impact the trade decisions would have on V&M's possible $970 million expansion of the Youngstown plant. The French-based company has been laying groundwork for the massive project but hasn't committed to going ahead with it.
Lisa Patt-McDaniel, director of the Ohio Department of Development, closed her remarks by saying she hoped that last month's trade ruling would mean a future jobs announcement was coming soon.
Many in the crowd looked to Lindgren, who simply said he had nothing to report.
shilling@vindy.com