Ursuline's Jones commits to YSU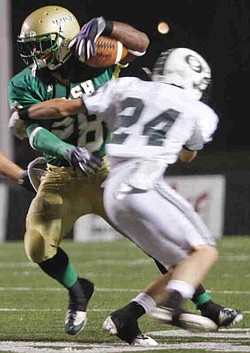 Photo
The Vindicator/Lisa-Ann Ishihara--- Irishman Allen Jones (28) escapes the grasp of Central Catholic's Dillon Stertzbach (24) at Stambaugh Stadium Friday October 9, 2009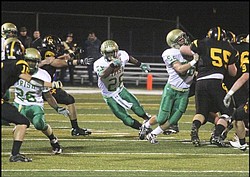 Photo
FOOTBALL - (28) Allen Jones of Ursuline breaks through the line Friday night in Austintown. - Special to The Vindicator/Nick Mays
Top Player: Allen Jones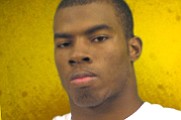 Video
He is the first recruit for new coach Eric Wolford.
By Joe Scalzo
YOUNGSTOWN — Eric Wolford's first recruit for Youngstown State is no stranger to Stambaugh Stadium.
Ursuline senior Allen Jones, who played his home games at the Ice Castle, verbally committed to Youngstown State on Monday night.
"I want to help YSU get back on track and back to winning championships," said Jones, whose Irish have won Division V state titles the past two seasons. "We want to show everybody what Youngstown football is about."
Jones, who finished his career with 4,393 yards and 64 touchdowns, was a three-year starter for the Irish, helping them to three straight Division V state title games.
Jones has known Wolford since his sophomore year, when the Penguins' new coach was at Illinois. Wolford kept in touch while at South Carolina last season and escalated his interest when he was hired last month.
Although the familiarity with the stadium and Wolford's alma mater didn't hurt, Jones said it came down to his relationship with the coach.
"There was real excitement when I found out he was going to YSU," said Jones, who also had offers from Illinois State and Villanova. "It was just a real good process."
Jones is the third Irish senior to commit to a Division I school, joining LB Dawalyn Harper (Toledo) and DL/LB Jamel Turner (Ohio State), who is attending Fork Union (Va.) Military Academy and is set to graduate in May.
Jones rushed for 2,379 yards on 283 carries last fall (second-best in school history behind Terrance Graves) and set single-season (31 touchdowns) and career (390 points) scoring records at Ursuline.
"He's just an all-around complete back," said Ursuline coach Dan Reardon. "He's got good speed, good quickness and tremendous strength.
"He's a kid that finds a way to produce yards. At the end of the day, that's what it's all about."
Jones plans to study special education and wants to work with autistic children.
He's been involved with a related program at Ursuline since his junior year, working with kids aged 6 and 7.
"I love doing it," he said. "I've had a kid who was about 7 years old and I loved seeing him smile. His mom would always tell me he couldn't wait until the weekend to be around me."
Jones has played his share of big games at YSU, but is looking forward to an atmosphere that even Mooney-Ursuline can't match.
"I went to some YSU games and it was a totally different atmosphere," he said. "It should be fun."
scalzo@vindy.com