Leaving public schools for charter schools?
Collier Family and Ed Choice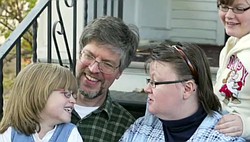 Video
The Collier family of Warren considers the Ed Choice option.
By SAMANTHA PYSHER
YOUNGSTOWN — Charter schools in Youngstown, created as options to the city's public school system, are showing test results as problematic as its public counterparts.
For the 2008-09 academic year, six of Youngstown's 11 charter schools were under the state designation of Academic Emergency. Eight of these charter schools were designated under Academic Emergency the year before.
The results are not surprising to one Valley education official.
Charter schools are run like factories, said Randy Hoover, a professor of Education Sciences at Youngstown State University.
"They're run to make money, not to educate," he said. "You can't run a school like a factory and expect the kids to do well. They can't give a well-rounded education in most of them."
But Jessica Kohler, principal at Summit Academy Middle School, feels not enough credit is given for what is accomplished at charter schools.
"Sometimes we do get a bad rap based on state report cards, and it looks like we're not doing anything, but we are," said Kohler. "There are different testing and measures that we do to show growth."
She said one testing measure is from the Northwest Evaluation Association, which the students take in the fall, winter and spring.
"This test shows growth over the year," she said.
Youngstown charter schools aren't alone when it comes to performing poorly on state-mandated testing — the measure used to determine each school's ranking. Nationally, charter schools have been underperforming.
For Hoover, this strengthens his argument that charter schools are bad for Ohio's so-called Urban Eight school districts (Akron, Canton, Cincinnati, Cleveland, Columbus, Dayton, Toledo and Youngstown) and communities where they are located.
Charter schools "drain money from" public schools, said Hoover.
According to the Ohio Department of Education Web site, charter schools receive a base amount of approximately $5,718 per pupil from the state. The money stays with the students at whatever charter school they attend.
Administrators from some of Youngstown's charter schools have their own theories why their schools have been underperforming.
Ray Pallante, principal for Summit Academy Secondary, said state-mandated testing may be the culprit, claiming the testing isn't valid.
"State testing straps teachers into only teaching to the test and doesn't allow them to show their creativity," said Pallante. "That robs students of the whole purpose of education."
"I understand that there needs to be an assessment, but we really have to look at what type of assessments we give to what type of students," said Pallante.
Pallante said it needs to be fair. For example, a student with a low IQ can't be expected to do as well or better than a student with a higher IQ.
"Fairness is giving each student the help he/she needs, even if it is not the same for everyone," he said, pointing to a sign where this quote is written.
"We work very hard to help students prepare for this test," he said.
Pallante said he is concerned about where education is heading based on the standardized tests.
"They're trying to prepare students for college, but it's a cookie cutter approach," said Pallante, adding that the tests don't prepare students for the real world.
Although most of Youngstown's charter schools have been under-performing, Pallante argues that there is good education and there are good teachers everywhere.
"I feel it's the school environment that makes the student comfortable to learn, and not every environment suits every student," he said.
Several Youngstown public school officials expressed concern with the way charter school students are tested.
Catherine Dorbish, principal of Martin Luther King Elementary school, said she also isn't convinced that charter schools can provide a quality education.
She said when her school receives students who have previously attended a charter school, students seem to be farther behind academically.
Despite the underperformance and scrutiny that Youngstown charter schools have faced over the past few years, parents stand by their decisions to send their children to these schools.
Most of the parents argued that their children have received a better education within these schools than they could have in a public school system.
"I still think they're a good school," said Audrey Crenshaw after she was told her grandson's school had been ranked in Academic Emergency.
"I didn't want him to go to public schools because some of them are so overcrowded," said Crenshaw, whose 7-year-old grandson attends Youngstown Academy of Excellence.
Chuck Mazon, whose 13- and 14 year-olds also attend Youngstown Academy of Excellence, didn't want his children attending Youngstown City Schools as well.
He said his children are receiving a better education by attending the charter school than they could at a public school.
Michael Lisi, whose 5- and 7-year-olds attend Stambaugh Charter Academy, said her children are doing well in her eyes.
"The way I look at it, is that as long as mine are doing well, that's all that matters to me," he said.
Kathy Graham, a therapeutic martial arts instructor for Summit Academy Middle School, sends her son to Summit Academy Secondary.
"My son was failing in the public school system, and now he's succeeding," she said. "He's a very smart kid, but he wasn't able to focus in a traditional setting."
Graham said one of the major reasons she chose this school for her son was the smaller class sizes, the learning concepts and hands-on activities.
Although parents interviewed are happy with their decisions, it may not be enough to keep these schools open.
For example, provisions within state law prevent some schools from reopening if they don't start to perform better on state report cards. To face the possibility of mandatory closing:
U Charter schools that house grades no higher than third and charter schools that house grades nine through 12, the school must rank under Academic Emergency three out of the four most recent years.
U A charter school that houses grades four through eight has to rank under Academic Emergency two out of three of the most recent years.
Hoover explained that even if they do close, it doesn't mean they close the doors for good.
Four of Youngstown's charter schools have been ranked under Academic Emergency for at least three years, and they are still running.
Kim Murnieks, executive director for School Options and Finance for the Ohio Department of Education, said some of these schools may fall under exemptions from the law, which may prevent them from closing. Exemptions include schools where the majority of students are special needs and schools that are dubbed "drop out recovery schools."
Some charter schools have implemented programs to help students better their education and do better on state testing.
One of these schools is Youngstown Academy of Excellence. William Byrd, its principal, said that staff and faculty emphasize the A+ Learning System and the 21st Century Learning Program.
"This is the first year that we have been able to implement the 21st Century Program," said Byrd. "We have made great strides and we are making great progress with our students," said Byrd.
SEE ALSO: Educators offer recipes for student success and Choice Creates Conflict.