Arms Family Museum features Christmases of yesteryear
MVHS Holiday in Motion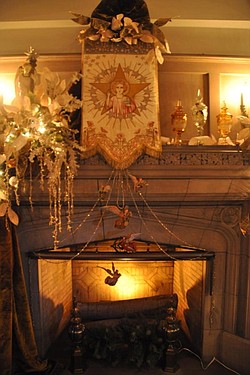 Gallery
You might need more than one visit to catch everything in this elaborate display.
YOUNGSTOWN — If you remember Christmas in Youngstown in the 1950s, you've probably seen Plakie twinkler ornaments.
Strouss' Department Store sold a million of the twirling metal fans inside plastic, carousel-shaped cases when they first appeared in the mid-1950s.
Now, some of them are whirling away on a Christmas tree at the Arms Family Museum on Wick Avenue, where the Christmas spirit is still alive during the museum's Holiday in Motion decoration display through Jan. 10.
The display, featuring vintage ornaments and decorations that move, fills seven rooms on the first floor of the 11,000-square-foot arts-and-crafts house that was built in 1905 by Wilford and Olive Arms.
Wilford Arms was the president of Realty Investments in Youngstown. He died in 1947.
Olive Arms, who died at age 95 in 1960, willed the home to the Mahoning Valley Historical Society with the stipulation that the first floor remain as she left it, explained Anthony Worrellia, the society's building-and-grounds supervisor and the designer of the elaborate holiday display.
Olive Arms' home wares, including etched- glass goblets, sterling silver pieces, books and china, are intermingled with the Christmas display, said Worrellia.
The display itself is not a replica of how the couple decorated the house for Christmas while they lived in it, he said. The society has no records of how it looked then. But lovers of history will appreciate the look at some beautiful pieces that date back through the 20th century and into the 1800s. They are on loan from private collectors.
There are Lionel trains, including three working displays. One features rare paper houses in its village.
"They would have been illuminated by candles," Worrellia said, which pretty much explains why there are so few of them now.
There's also a rare Lionel Blue Comet on display, though it's not up and running. Behind it is an Econolite motion lamp, which uses two canisters that mesh designs — one inside the other is moved by the heat of the lamp — to create the illusion of a moving train.
In what was the library of the house, a 1900s Regina music box in rare working order plays Christmas music. It is on loan from Drs. Angelo and Heather Petrolla.
The undisputed centerpiece of the library is a large 1930s papier-mach Nativity set with an 1800s Italian carved manger. An elaborate brown-velvet drape sets it off.
Worrellia, who along with his business partner Ed Drennen is a collector and an antique dealer, loaned the set.
Above the fireplace in the library is a silk tapestry of Jesus, set off by some of Olive Arms' etched glassware.
In the solarium, once an open porch until Olive had it enclosed when traffic increased on Wick Avenue, there are period aluminum trees illuminated by color wheels from the 1950s.
Step up from the solarium into the sitting room, and there are Santas — nodders whose heads bob, including one from the 1800s.
An 8-foot-tall Christmas tree there features about 500 vintage ornaments, and a rare 1800s feather tree, made of dyed goose feathers, draws your eye.
The dining room features a table set with pink china and a taxidermy peacock for a centerpiece.
"They decorated with taxidermy, and the peacock motif was common in the Arts and Crafts movement," Worrellia said.
Remember ribbon candy? It hangs from the gnarled branches of a snow-covered (actually, wrapped cotton) tree, along with spun cotton fruits and vegetables, in the butler's pantry.
Trays of decorated cookies and petit fours and jars of hard candy depict the goodies of an old- fashioned holiday celebration.
Upstairs, the rooms feature the museum's regular galleries, with displays of old equipment from WKBN and WFMJ; an exhibit containing the story of Olive's house, with pictures as she remodeled it through the years; and some of her own artwork — she was an accomplished watercolorist.
The display is so elaborate, you might want to see it more than once.
"I'm going back to the sitting room again," said Susan Burgeson of Boardman, who was back for the second time this year.
"It's just fabulous — it's like something you'd see out of New York City," she said, adding that she appreciates the audio sound tour that's available through cell phones.
"I'm talking it up to everybody," she said.