Bus driver allowed to resume duties — with 5-year restriction
By Jordan Cohen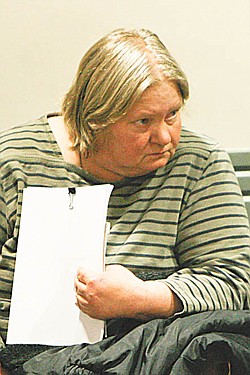 Photo
DEFENDANT: Mathews school bus driver Kathy Kotanichek waits outside Girard Municipal Court on Wednesday
WARREN — Kathy Kotanichek, the Mathews school-bus driver who became the center of controversy in the small district after she reportedly called a Lebanese-American student a "terrorist" must stay away from the child and his siblings for the next five years.
Magistrate Patrick McCarthy of Trumbull County Common Pleas Court agreed to a civil-protection order against Kotanichek that had been requested by Carol Lynne Sassya of Vienna, the mother of the child.
The order actually had been worked out by lawyers for Sassya and Kotanichek on Wednesday before Kotanichek pleaded no contest to a charge of disorderly conduct in the incident. A more- serious charge of child endangering was dropped, and Kotanichek was fined $150.
"The order will not interfere with [Kotanichek's] employment with Mathews as a school-bus driver, but she cannot transport the Sassya family," McCarthy said.
Kotanichek had been suspended for three days without pay last November by the school board after Superintendent Lee Seiple reviewed a videotape of the incident recorded on the bus video system. Since that time, she has been removed from driving duties and assigned to work in the bus garage. The order permits her to return to driving responsibilities.
Supporters of Kotanichek and Sassya were among the spectators as McCarthy reviewed the order.
Sassya, who was in court without her attorney, David Betras, asked to discuss the order before McCarthy ruled, and the magistrate complied. Sassya said the document was acceptable, but that did not mean she was happy with the result.
"I still believe [Kotanichek] should be terminated," Sassya said. "She should not be allowed to be around young children ever again."
After the hearing, Kevin Schnarrs of Vienna, who said he represents a 150-member group supporting Kotanichek, released a lengthy statement on her behalf.
"We felt all along that Kathy was the real victim," part of the statement read. "It is our true belief that Kathy would never discriminate or mistreat a child based on generations of children who rode her bus."
The statement said there never had been any previous complaints of prejudice against the driver.
Seiple said he is waiting to get official notification from school-board attorneys before he comments publicly on the outcome of the case.