Lures sought for GM transfers to live in Valley
Organizers of house incentives in 2008 are unsure if those programs will be revived.
By Don Shilling
GM Lordstown Adds Third Shift

Video
GM Lordstown will add a third shift for production of the new Cruze. GM North America President Mark Reuss delivered the good news during a visit to the plant today. Ohio Gov. Ted Strickland and U.S. Rep. Tim Ryan were also on hand.
Cruze gets 3rd Shift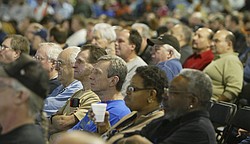 Gallery
A union official wants to revive a 2008 program that offered General Motors workers incentives to buy houses locally.
The incentives of between $500 and $1,250 were designed for workers who transferred into the local plant from out of the area.
Jim Graham, president of United Auto Workers Local 1112 in Lordstown, said he thinks a new round of incentives would encourage transfers coming to Lordstown this year to buy local homes and bring their families here.
"If they make that decision to relocate, it will help the Mahoning Valley immensely," Graham said.
The local housing market still is recovering from the collapse of the nation's economy and credit markets in 2008.
Graham said he plans to speak with a variety of community leaders about creating incentives.
Organizers of the 2008 effort aren't ready to commit to another program.
With a third shift for the Lordstown complex just being announced Tuesday, it's too early to say whether incentives will be approved, said Joe Bell, a spokesman for the Cafaro Co. in Youngstown, which led the 2008 effort.
"It's something we'll probably have to consider," he added.
The Cafaro Co. launched the program with a $250 cash award for GM transfers from outside the area who bought a house in the Valley. That was matched with another $250 from the Youngstown/Warren Regional Chamber with funds from the Cafaro Foundation.
Other funds also were available from area communities and a GM retiree.
Tony Paglia, vice president for governmental affairs for the chamber, said no one at the organization has discussed another incentive program.
Chamber officials were disappointed that only 22 people took advantage of the program in 2008, he said. That may have been because the third shift was eliminated shortly after it was created, he added.
The third shift is being revived this summer at the Lordstown complex to produce the Chevrolet Cruze, a new small car. In addition to calling back 330 workers who are laid off at the plant, GM plans to bring in about 800 workers who are off the job at other plants.
Graham and Dave Green, president of UAW Local 1714 in Lordstown, said some of the 2008 transfers chose not to move to the Mahoning Valley.
Some workers who came to Lordstown from GM plants in Cleveland and Pittsburgh in 2008 are commuting each day to and from their homes in those areas.
Some workers from other areas stay here during the week and go home on the weekends.
Green said, however, he expects most of the workers transferring to Lordstown this year will move to the area.
In addition to that $500 from Cafaro Co. and the chamber, Warren and Lordstown offered a $500 city income tax credit, and Niles offered a $500 grant for people who bought homes in those communities.
To boost the total amount to $1,250, a retired GM worker offered $250 to the first four transfers who bought local homes.
Lordstown Mayor Michael Chaffee said that community's program is still in place. It expires at the end of this year and applies to anyone who comes from outside the Mahoning Valley and buys a home in the village. Two people have taken advantage of it so far, he said.
shilling@vindy.com