In deal, Mathews bus driver keeps job
The defendant will get transferred to drive a different Mathews school bus.
BY JORDAN COHEN
VINDICATOR CORRESPONDENT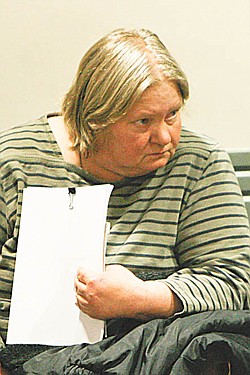 Photo
DEFENDANT: Mathews school bus driver Kathy Kotanichek waits outside Girard Municipal Court on Wednesday
GIRARD — Mathews school-bus driver Kathy Kotanichek, accused of referring to a Lebanese- American child on her bus as a "terrorist," was found guilty of disorderly conduct Wednesday but will keep her job, according to a settlement worked out by both sides.
Kotanichek, of Burghill, had been suspended for three days without pay last November after her comments were recorded on the bus videotaping system.
Carol Lynne Sassya, Vienna, the student's mother, subsequently filed charges of endangering children and disorderly conduct against Kotanichek in Girard Municipal Court, whose jurisdiction includes Vienna Township.
After backroom negotiations between the two sides that lasted nearly six hours, Judge Michael Bernard dismissed the endangering-children charge. Conviction could have carried penalties of up to six months in jail and a $1,000 fine.
The judge found Kotanichek guilty of the lesser charge after she pleaded no contest. He fined her $150.
"Actions by this woman toward my children were cowardly," Sassya told the judge before his ruling. "She should never be allowed to do this again and should stay from my children."
Kotanichek's attorney, Robert Platt, said the more serious charge was dropped due to "lack of evidence." The attorney said that under the agreement, Kotanichek will not lose her job and eventually will be assigned another bus route.
Kotanichek said she would not talk on the advice of her attorney.
Since her suspension, Kotanichek has been reassigned to work in the bus garage. She is also prohibited by a civil-protection order from having any contact with Sassya's children till mid-April.
As part of the settlement, the order will be extended to five years when it is presented before a magistrate in Trumbull Common Pleas Court this afternoon.
The incident clearly divided residents of the Mathews district. At a Feb. 18 board of education meeting, supporters of Sassya and Kotanichek filled the high school cafeteria during an emotional session in which representatives of both sides voiced their feelings to board members.
Sassya, who had earlier called for Kotanichek to be fired, indicated she could accept the decision.
"There will be no more comments from her and no more [attempts] to intimidate my children," Sassya said. "This is a victory for my family."
Mathews Superintendent Lee Seiple had been summoned to participate during the negotiations that led to the plea and settlement.
Attorneys for both sides indicated that Seiple, who had earlier indicated conviction would likely mean dismissal for Kotanichek, would go along with the agreement
Subsequent messages left for Seiple after the conclusion of the court case were not returned.