Boom Boom's movie on city to premiere in Cleveland
Boom Boom's movie on city — warts and all — to premiere in Cleveland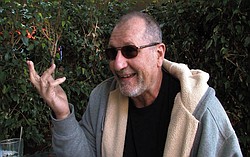 Photo
Actor and Youngstown native Ed O'Neill shares insights into his hometown in a scene from "Youngstown: Still Standing."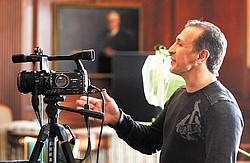 Photo
Ray "Boom Boom" Mancini lends direction during a shooting session in May of 2008 at the Youngstown Club, where the filmmaking team interviewed residents.
If you go...
What: "Youngstown: Still Standing"
When: 2:10 p.m. March 24; and 9:30 p.m. March 25
Where: The Cleveland International Film Festival, Tower City Cinemas, Tower City, downtown Cleveland
Tickets: Go on sale to the general public at 11 a.m. March 5. An exclusive pre-sale for CIFF members only begins at 11 a.m. Friday. To become a member, go to clevelandfilm.org or call (216) 623-3456. Membership levels begin at $25.
A documentary film about Youngstown produced by former boxing champion and hometown hero Ray "Boom Boom" Mancini will get its world premiere March 24-25 at the Cleveland International Film Festival.
"Youngstown: Still Standing" features interviews with local leaders and narration by two favorite sons: actor Ed O'Neill and cartoon voice specialist Jim Cummings. It was shot in Youngstown in 2008 and 2009.
"I am so proud of it," said Mancini. "It is as good as it can get. I don't think anybody could do any better. It is historical, informative and entertaining."
John Chechitelli, an Austintown native now working as an actor/cinematographer in Hollywood, is the director. Chechitelli and New York filmmaker Sam Kass captured the footage, which largely consists of interviews of city leaders, authorities and long-time residents.
The 89-minute film takes a warts-and-all look at Youngstown, but in a manner that reveals fondness and appreciation for the city. Experts from Youngstown State University, political leaders and others describe the city's history, offer insight and give first-person remembrances. The result is a portrait of the city's colorful past, its present condition, and its future direction.
"Still Standing" also exposes the elements that contributed to Youngstown's decline, including organized crime and the decline of the steel industry.
Mahoning Valley rock musicians, or those with local roots, including The Zou and Poobah, created the film soundtrack.
"It is totally a Youngstown production," said Mancini.
At this time, no local screenings are planned, although Mancini said he is trying to schedule one. A private screening for those involved in the film will be held in Youngstown March 23, but a location has not yet been set.
Mancini is working on distribution deals, and is shopping the documentary to several cable television networks and to PBS stations. DVDs of the film will be available at the Cleveland film festival and will become available by phone order in the near future.
The project hit a speed bump when Kass stepped down as director shortly after the crew's first trip to Youngstown in the summer of 2008. But without missing a beat, Chechitelli took over.
"Taking over in the middle of the game was difficult, but directing has always been my aspiration and I'm just thankful that Ray [Mancini] and our executive producer Jim Napoli allowed me to fill that role," said Chechitelli. "Up until that point, I had only directed short films and commercials, so to make my feature debut with this project was great."
Mancini and Chechitelli, both of whom live in Los Angeles, returned to Youngstown several times to shoot more footage. "After that I spent countless hours in the editing room trying to shape everything into a cohesive story," said Chechitelli.
The result, he added, is "a look at a unique American city that has been through a heck of a fight, as told through the perspective of people who grew up there."
Mancini credited Chechitelli for giving the film its shape and quality.
"We did 10 edits, and John kept saying 'no, no, no'," said Mancini. "I would tell him to put this in or take this out, but there was still something missing. John, to his credit, knew that we needed a voiceover to narrate it. He got Jim Cummings, and it came alive. And we got Ed O'Neill, who leads us in to the different chapters. That took it to another level."
Cummings is a voice actor who has brought to life more than a dozen animated cartoon characters, including both Winnie the Pooh and Tigger from The Disney Channel's "My Friends Tigger and Pooh" show. He has also lent his voice to a variety of Warner Bros. cartoons, including the characters Darkwing Duck and Taz the Tasmanian Devil, and has done work for the cartoons "Batman," "Pinky and the Brain" and "Animaniacs." His latest project was the voice of Ray the Cajun Firefly in Disney's acclaimed animated movie, "The Princess and the Frog," which was released last year.
O'Neill's career has reached a new peak with his lead role in the ABC sitcom "Modern Family," a critical and popular favorite. He also played Al Bundy in the landmark Fox sitcom "Married With Children."
Both Cummings and O'Neill are Ursuline High School graduates.
More like this from vindy.com