YSU's Jones looks to catch on in the NFL
Jones would be the first YSU player selected in the draft since Harry Deligianis in 1998.
By JOE SCALZO
Vindicator sports staff

Photo
YSU Donald Jones (81) and Western Illinois Stephen Moore (26) during the 2nd quarter at Stambaugh Stadium, Saturday October 10, 2009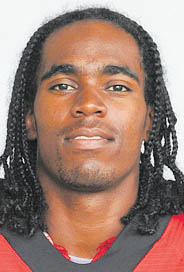 Photo
Around 11 p.m. on Jan. 25, former YSU receiver Donald Jones got a call inviting him to play in the Senior Bowl in Mobile, Ala.
It was a terrific honor — he was the first Penguin selected to the game since QB Ron Jaworski in 1972 and one of just five I-AA players on this year's roster — and he was thrilled to accept.
There was just one problem. The game was only five days away and practices had already started that morning.
So, he packed his bag, drove to the airport the next morning and, after missing the week's first two practices, did his best to catch up.
"That first day, I was just trying to get back into it," said Jones. "I had to learn the playbook in one day.
"Once I got that down, I felt like I did good."
Jones caught one pass for five yards for the North team, which won 31-13. A week later, he played receiver for the Nation squad, which fell to Texas 36-17 in the Texas vs. The Nation game in El Paso.
"It was an honor to be with the guys that I watched on Saturday nights after our games," said Jones. "I learned a lot from the coaches and the players there."
Jones (6-2, 210), a first-team All-Missouri Valley Football Conference selection, had an impressive senior year for the Penguins. He set a single-season school record for receptions (77) to go with a team-high 790 yards and six TDs. He twice tied the school record with 11 receptions in a game (Missouri State and Southern Illinois).
After graduating from Plainfield (N.J.) High School, Jones had trouble getting through the NCAA clearing house and ended up going to Lackawanna (Pa.) Community College. After two terrific seasons at Lackawanna, he nearly ended up at Ole Miss, but things didn't work out.
The Rebels' loss turned out to be YSU's gain. He caught 31 passes for 510 yards and seven TDs in his first season and was even better last fall.
"It was a great experience," he said. "The coaching staff helped me with a lot, and I had a lot of fun playing with my teammates."
Jones first caught the eyes of NFL scouts at YSU's Pro Day last March, then interest ramped up last summer.
"That's when things heat up and you start getting a lot of calls from different people all over the country," he said.
He signed with X-A-M Sports out of Madison, Wisc., after the season. He's been working with pro combine training coach Mike Gough at his Athletic Edge sports facility in Bradenton, Fla., since early January.
When asked if he was sad about missing Ohio's February blizzard, he laughed and said, "Oh no, I'm very happy down here."
Jones will work out at the NFL combine, which starts today in Indianapolis, then head back to Youngstown in March for the school's pro day. He said he's been projected as going anywhere from the fourth to the seventh round of April's draft.
If selected, Jones would become the 22nd Penguin drafted and the first since DT Harry Deligianis, who was picked in the fourth round by Jacksonville in 1998.
Jones said he's still about a year away from earning his communications degree but plans to go back to school once his football career is over to become either a broadcaster or a coach.
He said he was saddened by head coach Jon Heacock's departure — he was replaced by Eric Wolford in December — but said it didn't come as a huge surprise.
"We knew that not making the playoffs in Youngstown is not acceptable," he said. "We hadn't made it in a few years, since 2006, so we kind of knew if we didn't make the playoffs this year, there was a good chance he'd be gone."
XPenguin fans can follow Jones via his twitter account @Dajones81 for the latest updates as he pursues his professional career.
scalzo@vindy.com
---
A list of YSU football players selected in the NFL draft.
1998: Harry Deligianis, 4th round, Jacksonville
1993: Tony Tellington, 9th round, Miami
1989: Jim Zdelar, 7th round, Miami
1986: Bob Thompson, 6th round, New Orleans
1984: John Goode, 4th round, St. Louis Cardinals; Paul McFadden, 12th round, Philadelphia
1979: Greg Fitzpatrick, 7th round, Dallas; Ed McGlasson, 10th round, New York Jets; Quentin Lowry, 12th round, Dallas
1977: Cliff Stoudt, 5th round, Pittsburgh
1973: Ron Jaworski, 2nd round, Los Angeles Rams
1970: Dave DelSignore, 15th round, San Francisco
1969: Craig Cotton, 8th round, San Diego
1957: Joe Guido, 14th round, Baltimore
1967: Bill House, 7th round, Cleveland; Jake Ferro, 15th round, Miami
1963: Frank Horvath, 19th round, Minnesota
1952: Ralph Goldston, 11th round, Philadelphia
1948: Pete Lanzi, 11th round, New York Giants
1946: Al Perl, 16h round, Pittsburgh
1943: Leo Mogus, 17th round, Washington
YSU sports information