Cronin receives the max for fraud
The district judge said the sentence was appropriate because of the 'egregious nature of the offense.'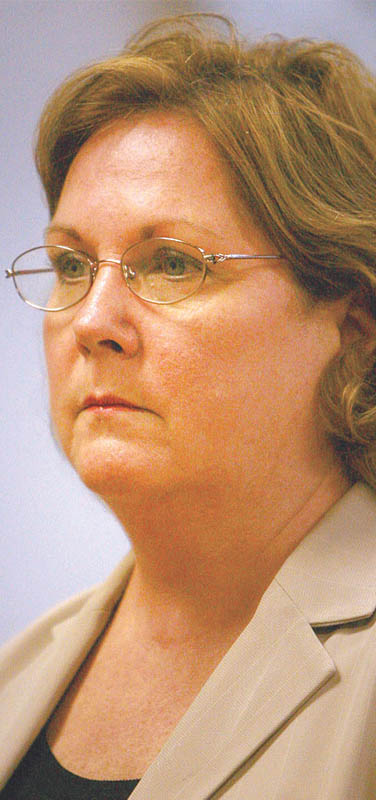 Photo
Former Mahoning County Common Pleas Judge Maureen A. Cronin
AKRON — Ex-Mahoning County Common Pleas Court Judge Maureen Cronin said that after her mother and longtime boyfriend died within a year of each other, she turned to alcohol and gambling for comfort.
To help pay off her ever-growing gambling debt, Cronin turned to a friend who gave her $18,000, said J. Gerald Ingram, her attorney.
But her failure to report that money, which federal prosecutors said wasn't necessarily a loan, on state financial-disclosure statements in 2006 and 2007 was a crime.
A tearful statement read Tuesday by Cronin and the urging of leniency by Ingram didn't help. U.S. District Court Judge Sara Lioi sentenced Cronin to the maximum sentence of 27 months in federal prison for two felony convictions of honest- services mail fraud. She also was fined $4,000 and will be on three years' parole after she serves her prison time.
"The problems may provide an explanation but not an excuse," Judge Lioi said. Because of "the serious and egregious nature of the offense, the high end [of the potential sentence] is appropriate."
Under federal sentencing guidelines, Cronin faced between 21 and 27 months in prison.
The judge added that Cronin "committed a grave breach of trust" and "betrayed the public she served."
Cronin will start serving her sentence in about 30 to 60 days.
The first woman elected as a Mahoning County Common Pleas Court judge, Cronin resigned in July 2007 after 12 years on the job — and two drunken-driving convictions, in 2005 and 2007.
Cronin said she accepted "complete responsibility for my behavior" and it was a mistake to turn to alcohol and gambling.
Cronin pleaded guilty Dec. 15, 2009, to the two federal felonies.
Cronin was convicted of taking and concealing an $18,000 no-interest cash "loan," with no collateral or payment schedule from "a senior executive of a business" that had numerous civil suits before her, according to a bill of information filed by the U.S. Attorney's office.
Cronin presided over several cases involving that company and its affiliated businesses without disclosing the loan or deciding not to hear the legal matters.
Cronin failed to report the loan, given around July 2006, as required on state financial-disclosure statements, which she filed by mail. The bill of information consistently used parenthesis around the word loan because federal government officials questioned if the money given to her in an envelope in the back seat of a car was actually a loan.
The "senior executive's" name was kept secret until Judge Lioi revealed it to be Flora Cafaro at one point in court. She then stopped the hearing for a moment and never mentioned Cafaro's name again.
"That was a surprise," Ingram said after the sentencing about the judge's revelation.
Flora Cafaro is a part-owner of her family's Youngstown-based Cafaro Co., one of the nation's largest retail-shopping companies.
It was the company's second hit in two days.
The company statement Tuesday said Flora Cafaro made the loan "in her personal capacity, and not in her capacity as a representative of the Cafaro Co. Ms. Cafaro has no involvement in the day-to-day operations of the organization."
The company issued a statement Monday about her brother, John J. Cafaro charged with a federal felony count of making a material false statement regarding money he improperly gave to the failed 2004 congressional campaign of his daughter, Capri. That statement said his criminal charge involved his "personal activities" and not the company. John J. Cafaro is already a convicted felon.
Flora Cafaro describes herself on Federal Election Commission contributions since 2003 as a company vice president and added assistant treasurer on a few of the donations.
"That's not accurate at all," said Joe Bell, Cafaro Co.'s director of corporate communications. "She's had very, very limited duties here."
Flora Cafaro's attorney, Ralph E. Cascarilla, issued a prepared statement Tuesday that his client has an ownership position in the business and she is "a part-time employee with limited administrative duties."
Cascarilla, who's also John J. Cafaro's attorney, also wrote that the loan was made only after Cronin signed "a legally binding promissory note for repayment on demand. Ms. Cafaro has not called for repayment of the loan — which was made personally by her. Ms. Cafaro was never informed that Ms. Cronin had not declared the loan, as required."
Federal prosecutors previously have said the person who "loaned" the money to Cafaro didn't commit a crime.
Before the sentence, Ingram pointed out that the company had 44 cases in front of Cronin when she was a judge. Of them 41 were "landlord-tenant" disputes and three were "slip-and-fall" cases. Of those, all but four actually went to trial and were heard by a magistrate.
Cronin had "no judicial involvement" in any of the cases.
But Judge Lioi later said: "The type of case doesn't matter. The level of [Cronin's] judicial oversight doesn't matter. She received money and shouldn't have had any involvement in the cases. This conduct only erodes the trust in our judicial system."
As for Cronin's personal life falling apart about six years ago when her mother and longtime boyfriend died, Ingram said she turned to alcohol and gambling and became withdrawn and isolated.
"It's hard to fathom a bigger fall from grace," he said. "Her face was plastered all over the Youngstown Vindicator front page" Tuesday. "Even the best of us have personal flaws."
Assistant U.S. Attorney Justin Roberts didn't say much during the sentencing hearing.
However, he did say Cronin was a "public official with a criminal history several times over," he said. "We need to let the public know public officials are not held to a different standard. The people of Mahoning County, Mahoning County Common Pleas Court, its citizens and the state of Ohio deserve better. They deserve to know their officials aren't being bought and paid for. They need to know if their elected officials are being compromised. It really shakes people's faith in the judicial system."
Roberts added that the court needs to "send a message to other public officials to not take money and not be compromised and to fully disclose information to the public."
Cronin's attorney asked that she serve her time at Alderson Federal Prison Camp in West Virginia. It's the same minimum-security women's lockup in which television personality Martha Stewart served her time for insider trading.
The decision on where Cronin will serve her sentence rests with the federal bureau of prisons.
skolnick@vindy.com