Angels sponsors Spay Day event
By Denise Dick

Photo
SURGERY PREP: Marcy Armstrong, a registered veterinary technician, shaves cats before their spaying or neutering surgery as part of Spay Day on Tuesday at Angels for Animals.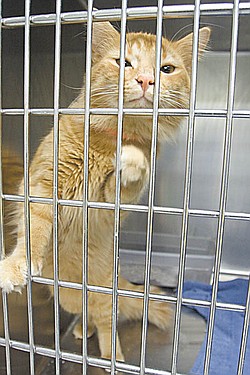 Photo
A cat reaches for the camera while waiting for its spaying or neutering surgery as part of Spay Day on Tuesday at Angels for Animals.
NORTH LIMA — Robert and Tammy Moyer traveled about 70 miles from their Ashtabula County home to take advantage of Angels for Animals' Spay Day event.
"We brought seven cats today and eight two weeks ago," Robert said.
Through the event, dubbed Ban the Big Bellies, the shelter raised donations and conducted fundraisers to spay and neuter at least 100 cats and 60 dogs during a three-day period. It started Tuesday and runs through Thursday.
It's part of the Humane Society of the United States' Spay Day, and it provided the service for a nominal fee — $10 for cats and $25 for dogs — charged to owners in need, said Kate McDermott, Angels general manager.
Vouchers were sold to those who qualified.
With 15 cats and three dogs, the Moyers, of Rock Creek, Ohio, don't need any more pets.
"We live on a long country road," Robert said. "About every two weeks, you hear a car door, and then when you go get the mail, there's a cat."
Tammy said they tried to have the cats spayed or neutered at a facility closer to home, but they couldn't afford the $45-per-cat charge. They learned of Angels' program online.
The shelter's effort took the help of veterinarians Cheryl Whitfield, Toni Janosko, Alison Fowle and Kendra Hanneman; three registered veterinary technicians, five assistants and many volunteers.
The process moved quickly as sleeping cats moved from operating table to recovery cages.
One of the RVTs, Pam Morosky, of Northcoast Medical Training Academy, Kent, brought two students to the spay day so they could help. The experience exposed the students to a busy surgery setting, too, Morosky said.
"We've been getting ready for this for a long time," McDermott said.
Angels has provided spay and neuter programs for feral and stray animals for years but recently expanded it to include cats and dogs whose owners can't afford the operations.
By providing the service at a discount, the shelter aims to reduce the number of homeless and unwanted pets.
"That's one thing that all shelters can agree on is that the key is to spay and neuter," McDermott said.
The shelter is establishing a Care Fund to help pay for future such programs. Money raised through Angels' pancake breakfasts goes into that fund.
denise_dick@vindy.com