Ursuline, LaBrae advance to face seeds
The Irish and Vikings have little trouble ousting Girard and East Palestine in Division III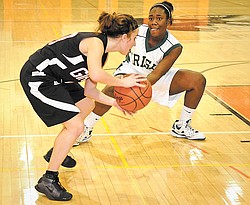 Photo
Ursuline's Briana Curd applies the full court press against Girard's Caroline Standohar during Ursuline's 60 - 29 win at Mineral Ridge on Monday night.
By DOUG CHAPIN
Vindicator Correspondent
MINERAL RIDGE — Monday's winners in the Division III girls basketball sectional tournament might not appreciate the "prize" that their victories earned them. Ursuline High and LaBrae High advance to the sectional final round to play the one and two seeds in the tournament.
The Irish (10-9) face top-seeded Springfield on Thursday night while LaBrae (12-9) goes up against second-seeded Campbell Memorial on Saturday.
Ursuline defeated Girard, 60-29, and LaBrae bested East Palestine, 42-15.
"We're happy with the result. Anytime you get a W come tournament time it's great, but we were not real pleased with a lot of things that we did," Ursuline coach Sean Durkin said. "We looked a little bit rusty, maybe a little bit of nerves for the first tournament game. But we're going to need to play a lot better than this on Thursday.
"We weren't totally pleased with some of the things we did defensively. I thought we free-lanced a little bit, here and there, which is something that isn't up to our standards," Durkin said. "If we want to continue to advance we have to play team defense. I thought a lot of times we got a little selfish on the defensive end and it's not going to work if we're going to keep advancing."
You couldn't convince Girard (6-15) that the Irish were doing anything wrong defensively.
After the Indians battled to stay within 14-12 after one quarter against the Irish half-court man-to-man defense, Ursuline turned things up a notch and extended the defense full-court.
Girard only attempted five shots in the second quarter, making just one, and Ursuline's 18-4 advantage in the quarter all but decided the outcome.
Ja'Niece Whitehead had 10 points for Ursuline and Shamia Harrison and Jasmine Browne scored eight each. Aurielle Irizarry contributed four assists and six steals and Dominique Jenkins grabbed eight rebounds.
Girard got 15 points from Katelynne Brainard and seven rebounds from Kaylin Sandridge.
Ursuline's regular-season scheduled included three schools (Boardman, Div. I; Walsh Jesuit, Div. II; Regina, Div. III) which ended up in the top 10 in the final Associated Press statewide poll.
In addition, the Irish faced schools such as Worthington, Cincinnati Seton, Akron Hoban, Akron St.Vincent-St. Mary and Bedford Chanel.
"We see a lot during the regular season. We see teams that pressure us, teams that zone us," Durkin said. "They are high-quality programs that we're playing and our hope is that we get better by playing that type of competition.
"The downside is that some of these other teams here are more used to winning than we are. We've had our fair share of losses and hopefully that doesn't become habit-forming.
"Springfield is very good. They are big and, like I said, they have 17 or 18 wins on the year and anybody who wins that many games, they have a winning type of attitude. They are well-coached, they are senior-laden, we're going to have our hands full."
LaBrae also knows it will have its hands full against Campbell, which defeated the Vikings twice during the regular season.
The Vikings' defense was outstanding, holding East Palestine (8-13) to six-for-46 shooting on the night. The Bulldogs were playing without standout senior point guard Emily Casto, who was ill.
LaBrae led 10-2 after one quarter, 22-8 at halftime and 32-10 after three.
Courtney Aldridge scored 13 points and Sharea Elkins added 10.
The Vikings dominated the glass with Brittani Hill grabbing 15 rebounds, Danielle Webber and Ashlee Stubbs getting 11 each and Aldridge collecting nine. Elkins dished out four assists and recorded five steals.