Despite snow damage at DeYor, 'Riverdance' show will go on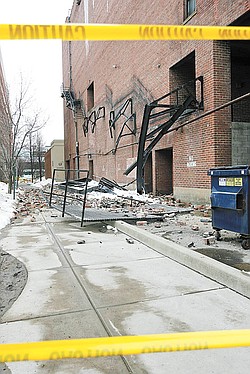 Photo
FALLEN STEEL: The steel frame of the fire escape outside the DeYor Performing Arts Center lies on the ground beneath the outline of where it once was on the building.
IF YOU GO
What: Riverdance farewell performances
When: Today, Wednesday, Thursday
Time: 7:30 p.m.
Where: Edward W. Powers Auditorium at DeYor Performing Arts Center, downtown Youngstown.
Tickets: Powers Auditorium box office or www.youngstownsymphony.com
YOUNGSTOWN — A farewell appearance by Riverdance will go on despite snow-related damage to the DeYor Performing Arts Center.
Patricia Syak, center director, said the building has received the blessing from city building inspectors and the fire department and will go forward with "Riverdance" shows planned today, Wednesday and Thursday in Powers Auditorium inside DeYor.
Fire department officials sent a truck to the building over the weekend when a buildup of snow and ice on the roof led to a collapse of some of the building facade and the fire escape. The fire escape and loose bricks are considered a major concern.
There is no damage or structural problems on the inside of the theater, officials said.
The building was closed Monday with only a few workers inside and construction crews assessing damage outside. The building — except for the Overture restaurant — is expected to be open to the public today.
The restaurant, Syak said, is closed because a gas line on the damaged side of the building has been shut off until repairs are made. That gas line affects only the restaurant.
Syak said the three Riverdance performances are nearly sold out, and she expects all tickets to be gone by show time. The auditorium can hold up to 2,300 people.
Syak said the facility is safe for the public to use. Any concerns patrons may have will be addressed before each performance.
"We would not be permitted to be inside the building if the fire inspector did not think it was safe," Syak said. "We will be addressing those [safety] concerns with a live talk on stage so that everyone knows the exits available."
Syak said there will be limited seating in the balcony on the side of the building where the fire escape was damaged. The rest of the building, she said, has adequate emergency-escape access.
Additional police and firefighters will be on hand at the performances in case of an emergency.
Officials do not yet have an estimate to repair damages to the building. Syak said masonry work to repair the damaged bricks will take place sometime in the spring.
The fire escape will be checked to determine how much repair is needed or if it will need to be replaced.
jgoodwin@vindy.com