Austintown officials aren't surprised by Youngstown's inaction, Oles says
The city acknowledged not seeking grants or federal aid for water-infrastructure replacement.
By Elise Franco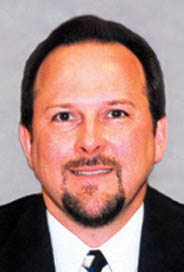 Photo
Austintown Trustee David Ditzler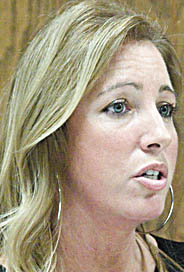 Photo
Austintown Trustee Lisa Oles
AUSTINTOWN — Trustee Lisa Oles said township officials aren't surprised by Youngstown's response to a recent public-records request.
Oles said during Monday's trustees meeting that Youngstown's Deputy Law Director Dan Fribich responded Thursday to the township's request for the following information regarding February's increase in water rates:
Information that provides reasons or justification for the water-rate increase.

Information about any strategic plan to replace, repair or maintain water infrastructure.

An explanation of expenditures for the past three years of surcharge revenue from noncity customers.

Details on all grants applied for in the past three years for replacement, repair or maintenance of water-system infrastructure.
Youngstown officials announced Dec. 31 that its residential and commercial customers would see an 8.75 percent increase in water rates each year for the next five years to cover the cost of the city's capital-improvement plan.
Oles said the letter Fribach sent back to the township states that "no public record exists that meets the request" for information about the surcharge.
She also said the city acknowledged never applying for grants or federal funding to help pay for the water-infrastructure replacement.
"I find it not surprising," she said. "I was always under the assumption that surcharge money was spent to maintain the waterlines. ... The city can't account for what they've done with that money."
Trustee David Ditzler called the city's response "almost humorous."
"The response they gave, it's amazing they actually put into writing to us that they did nothing, really," he said.
Oles said the trustees were provided with a basic overview of what the city plans to do with the money raised from the rate increase.
"They did give us a plan, but I'm not so sure it's a strategic plan," she said.
The plan lists priority projects from 2010 through 2016, which include repainting four water tanks within the city and replacing several waterlines, valves and meters, though it doesn't specify which ones. The projects total nearly $33.5 million.
"They gave no specifics," Oles said. "Anyone could take a sheet of paper and do this in five minutes."
She said she takes issue with Youngstown's not applying for grant money.
"I think it's very disappointing that there's so much stimulus money available, and they have not taken the initiative to apply for any grants in the last three years," Oles said. "They haven't exhausted all opportunities, and they've put it on the backs of consumers."
In other business at their meeting Monday, trustees approved putting a crosswalk between Frank Ohl Intermediate School and the Idaho Road Alliance Church.
Mal Culp, superintendent of operations and facilities for Austintown schools, said the crosswalk is needed because of increased foot traffic immediately after school.
Ditzler also said road- department workers have begun filling potholes with cold patch, but most of the work will be done with hot patch materials as soon as the weather is warm and dry enough.
efranco@vindy.com