Rayen time capsule preserves 1921 mementos
By HAROLD GWIN
VINDICATOR EDUCATION WRITER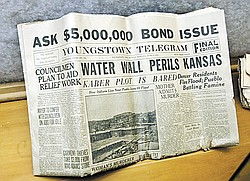 Photo
PAPER SURVIVES: A copy of the defunct Youngstown Telegram newspaper survived 87 years in the 1921 sealed time capsule.
YOUNGSTOWN — Time capsules are "a snapshot in time," and it's important to preserve what they contain, said the executive director of the Mahoning Valley Historical Society.
It gives us the opportunity to see what people were thinking and what was important to them when they put items into that capsule, H. William Lawson explained.
He was talking about a particular time capsule in this case, one found in the cornerstone of The Rayen School on Benita Avenue when it was torn down in 2008.
No one, including school officials, knew it was there until workmen on a demolition crew found the carefully sealed copper box.
Its contents have a new existence, thanks to the historical society which has put them on display in the Arms Family Museum of Local History at 648 Wick Ave. The city school board agreed to that scenario last fall.
The box was sealed June 7, 1921, Lawson said.
It's tradition and history that are saved, said Wendy Webb, city schools superintendent.
"We were so excited about it when we found it," she said.
Look at the strong commitment that has come out of The Rayen School, Webb said, referring to The Rayen Trustees, a group that carries on Judge William's Rayen plan to benefit education in Youngstown.
People have to give back to their community, and the trustees have never stopped helping and supporting the schools, she added.
The original Rayen school at the corner of Wick Avenue and Wood Street still stands and has been part of the central office building for years. It's a structure that was built by P. Ross Berry, Webb's great-great-grandfather.
Charles Rudibaugh, longtime president of The Rayen Trustees and a Rayen graduate, said the trustees were as surprised as everyone else when the time capsule was found. He was born the year it was placed in the cornerstone.
"Fantastic," he said as he gazed upon the display. "It's amazing they got all those things in that capsule."
"I used to carry the Youngstown Telegram as a teenager," he added, gazing upon a preserved copy of the defunct newspaper pulled from the time capsule and now resting safely behind glass in a temperature- and humidity-controlled environment.
"Some of those people were there when I was in high school," he said, as his attention shifted to a list of Rayen faculty in the display.
Much of the capsule's contents are in a large display case in the museum's new acquisitions area where they will remain at least through the end of this school year, Lawson said.
After that, they will be placed in the archives, where they will remain available for public viewing, he said.
The museum is open from 1 to 5 p.m. Tuesday through Sunday each week.
The display includes copies of The Rayen Record (a student monthly publication), class lists, faculty lists, copies of the Youngstown Telegram and the Youngstown Vindicator, business cards (including one from Charles Owsley, the building architect, with a handwritten notation that he was an 1899 Rayen graduate), a 1920 silver coin and a copy of Judge Rayen's will that created the school.
gwin@vindy.com