Man accused in St. Dom's killing faces charges in separate assault
The victim said Houser deserves more time in jail.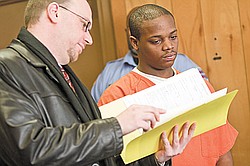 Photo
PAPERWORK: Jamar Houser, 19, right, looks over copies of the charges against him with his lawyer, Atty. Michael Villani, in Youngstown Municipal Court. Houser, a suspect in a murder case, was sentenced Thursday to 90 days in Mahoning County jail on unrelated charges of disorderly conduct and criminal damaging.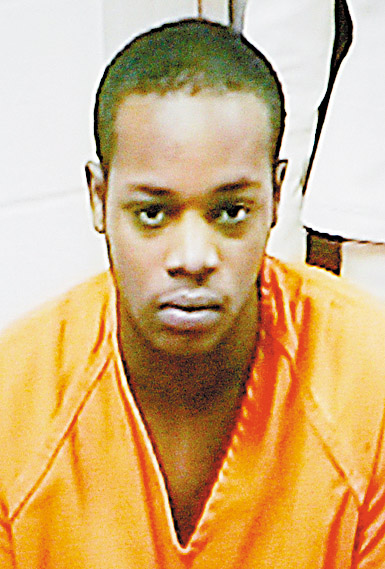 Photo
SUSPECT ARRAIGNED: Jamar Houser, 18, of Volney Road was arraigned by video before Judge Robert Milich of Youngstown Municipal Court on Monday in the shooting death of 80-year-old Angeline Fimognari. Judge Milich set Houser's bond at $3 million.
YOUNGSTOWN — Jamar Houser, a suspect in a murder case, has been ordered to serve 90 days in the Mahoning County jail on unrelated charges of disorderly conduct and criminal damaging.
Houser, 19, appeared before Judge Elizabeth Kobly of Youngstown Municipal Court.
He also is charged with the murder of Angeline Fimognari, 80, of Sheridan Road, in the parking lot of St. Dominic Church on the South Side on Jan. 23.
The jail time Houser received Thursday resulted from an altercation Houser had with Jaa'Bone Kennedy, 58, of Indianola Avenue, before the shooting in the church parking lot took place.
Kennedy, who lives near Houser, said he was walking near Houser's home in August 2009 when words were exchanged, and Houser threatened to do him bodily harm.
Kennedy and Houser began fighting. Kennedy said he was jumped by a group of Houser's family and friends. He told the court that he believed Houser was reaching for a gun at one point and that he would be shot.
Kennedy brought his bloodied clothes and broken glasses to the court to demonstrate how badly he was beaten. He told the judge he still has outstanding medical bills.
"I was minding my own business when I was attacked," he said. "I don't know why they attacked me."
Houser, before the hearing, reached a plea agreement with prosecutors amending his assault charge to disorderly conduct. He then pleaded no contest to the disorderly-conduct and criminal-damaging charges, and the judge found him guilty.
When asked by the judge if he had anything to say regarding the situation, Houser simply said, "No, ma'am."
Judge Kobly made it clear that Houser would be spending some time in jail for the two offenses.
"In my courtroom, if you act like an animal, you are going to be locked in a cage," she said.
The judge could have sentenced Houser to up to 120 days in jail and fined him up to $950. She gave him the 90-day jail sentence and fined him $140 plus payment of any outstanding medical bills owed by Kennedy.
Kennedy said he is happy to see the matter come before the court, but he believes Houser should have received more jail time for the altercation.
Houser has yet to be indicted on the murder charge.
Frances Cianciola, 42, Houser's mother, was in the courtroom in support of her son. She is free on $100,000 bond after police say she tried to intimidate a witness against her son in the Fimognari murder case. Cianciola and Houser mouthed words to each other during the hearing, and the mother often smiled at her son.
John Houser, 46, Houser's father, also is charged with felony retaliation and remains in the county jail with bond set at $250,000.
jgoodwin@vindy.com