Ryan looks to continue 'Mahoning miracle'
Ryan looks to continue 'Mahoning miracle'
By Don Shilling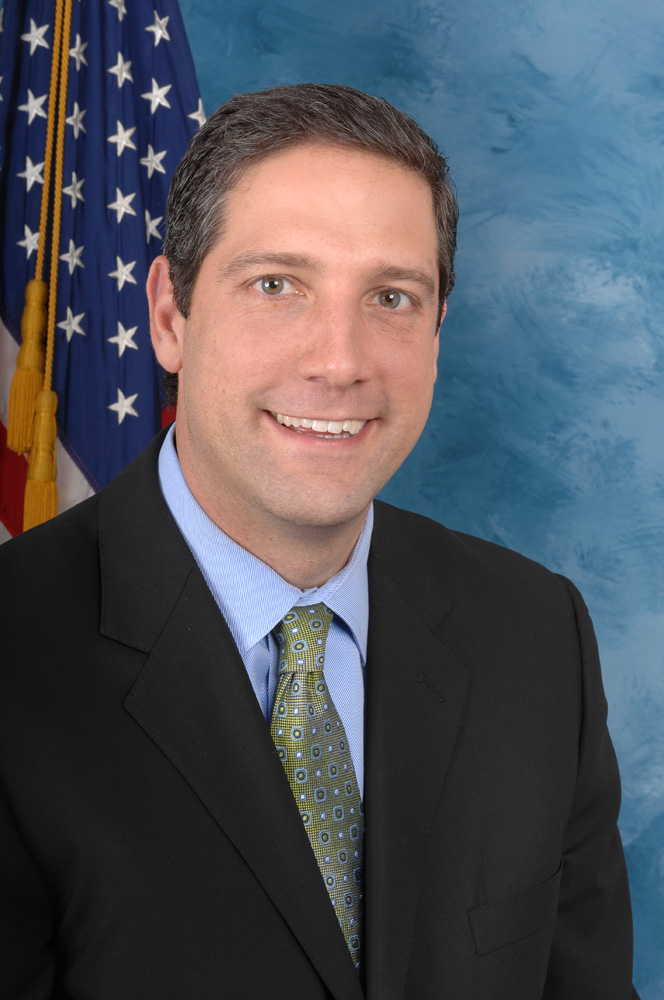 Photo
U.S. Rep. Tim Ryan (D-17)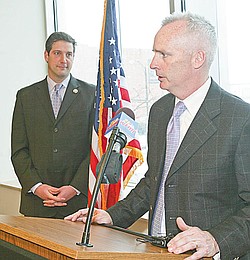 Photo
NEW COMPANY: Kevin O'Brien, chief executive officer of Revere Data, announces his company is relocating a research center's operations from India to downtown Youngstown. Congressman Tim Ryan is at the left.
HOWLAND — Tim Ryan, who filed petitions Wednesday to run for re-election to Congress, told a gathering that "the veil of corruption" has been lifted in the Mahoning Valley and an economic revival is under way.
He said momentum is building from investments being made by General Motors, V&M Star Steel and a San Francisco research company.
"We can get back to where we were in the '40s, '50s and '60s," Ryan told about 225 people at Leo's Ristorante here. "We are primed to make it happen. This is going to be the miracle on the Mahoning [River]."
Ryan, of Niles, D-17th, didn't mention the upcoming election in his speech at a Youngstown/Warren Regional Chamber luncheon, but afterward he went to the Trumbull County Board of Elections to file his petitions to run for his fifth term.
"We're not done yet. There's more work to be done, and I'm excited to do it," Ryan said in an interview after the luncheon.
Ex-Girard Councilman Dan Moadus has filed to run against Ryan in the May primary. M.E. "Bing" Henderson of Tallmadge is running for the Republican nomination for the district, which covers portions of Mahoning, Trumbull, Portage and Summit counties.
Ryan started his speech by saying the key to attracting recent corporate investments has been an effort to establish "political credibility." He said corporate executives would not invest in this area in the past because they were concerned they would have to pay bribes to politicians.
"We have lifted the veil of corruption in the Mahoning Valley, and things are happening because of that," he said.
Also assisting in the area's new image have been labor-management cooperation, establishing research centers at Youngstown State University, business incubators in Youngstown and Warren, the chamber's international business recruiting efforts and the beefing up the Western Reserve Port Authority and its financing abilities, he said.
A decade ago, the area was not prepared for the telecommunications and Internet revolutions.
"We flat out missed them in this community. We had our head buried in the sand," he said.
Now, the area is preparing to be part of business expansions in the clean-energy industry, he said, noting that the incubator in Warren is focusing on developing technology for that industry.
Plus, private investors who are creating a clean-technology incubator in the Ohio Works Industrial Park in Youngstown have been researching empty industrial buildings in the area so they can have places for spin-off companies to locate, he said.
Job announcements this week show how perceptions of the Valley are changing across the nation and abroad, he said.
V&M Star, which is owned by a French company, chose Youngstown for its new $650 million pipe mill.
Revere Data, a San Francisco firm, is creating a 10-person staff in downtown Youngstown that could reach 100 in two years. Revere, which provides information to institutional investors, is moving the work from India because of this area's low operating costs and stable work force.
Ryan, who praised the chamber for its recent trips to Asia and Israel, said the remarks from Revere officials caused him to think he should travel to India and New York to promote the Valley to other companies that do similar work.
"We're moving in the right direction, and the world is watching," he said.
shilling@vindy.com