Martinez a go for the Ghost
Kelly Pavlik will defend his middleweight title on April 17 in Atlantic City on HBO.
Pavlik vs. Espino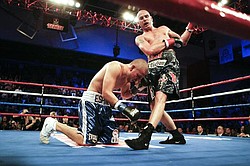 Gallery
By JOE SCALZO
Vindicator sports staff
YOUNGSTOWN — It looks like the Ghost's latest fight is a go.
Sergio Martinez has already signed his contract to fight Kelly Pavlik on April 17 in Atlantic City and Pavlik was expected to sign either late Wednesday or today, said Top Rank chairman Bob Arum.
Pavlik and his wife are out of town on vacation and are expected to be back in Youngstown this weekend.
"It's a done deal as far as I'm concerned," said Pavlik's trainer, Jack Loew. "We're preparing to fight."
The fight will be televised as part of a two-site show on HBO. The first bout pits Edison Miranda against IBF super middleweight champion Lucian Bute in Quebec, followed by Pavlik-Martinez. Miranda was once the top contender for the middleweight crown before getting knocked out by Pavlik in May of 2007.
Pavlik will start training camp on Monday, giving him his typical eight weeks of training. Loew said he would like to spend part of the camp in Florida, allowing his fighter to focus on the fight without hometown distractions.
Pavlik spent a few weeks training in Las Vegas before his December bout against Miguel Espino but prefers to train at home, where he has access to several gyms, including the Southside Boxing Club.
Top Rank is mulling whether to hold a press conference in the next two weeks but may wait until a press conference brunch on March 13. Top Rank fighter Manny Pacquiao is fighting Josh Clottey in Arlington, Texas, that night, giving the fighters access to boxing's top writers.
If Pavlik wins — no guarantee considering Martinez's ability — his handlers are already mulling future scenarios.
Pavlik would still like to fight Felix Sturm of Germany for the WBA middleweight belt and may be willing to travel there to do so, but there are few other interesting options at that weight.
One of them is former light middleweight champ Winky Wright, who recently signed with Top Rank.
Paul Williams, who was scheduled to fight Pavlik on Dec. 5 before Pavlik's hand injury canceled the bout, no longer appears to be an option. That bout is "absolutely dead," said Arum, who considers Williams' desire for a 50-50 money split to be ludicrous.
"Our fighter is the attraction," Arum said. "He sells tickets and he's the middleweight champ. Paul Williams is not the champ and he doesn't sell tickets, so where does he get off asking for 50 percent?
"There are times when the champion gets less than the challenger, but that's when the challenger is the bigger attraction. Williams can't sell anything."
One scenario to keep in mind involves Pavlik stepping up to super middleweight in the next year.
If he and Bute both win, that could be a future matchup, with Pavlik looking to position himself to eventually fight the winner of Showtime's Super Six super middleweight tournament.
Of course, none of this matters if he loses to Martinez, who poses the first serious threat to his title since he knocked out Jermain Taylor in September of 2007.
"Martinez is a tough fighter," said Arum. "If he beats him, then we'll look at those other options.
"But one thing is certain. Once Kelly moves to 168, he's going to stay at 168."
scalzo@vindy.com
More like this from vindy.com