V&M Star's pipe mill shows rise in productivity
By Don Shilling
VM Star Expands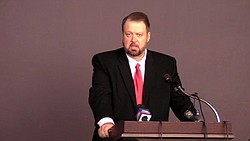 Video
VM Star Steel announced a $650 million expansion in the Mahoning Valley during a Feb 15, 2010 news conference in Younstown, OH.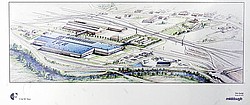 Photo
NEW FACILITY: Construction on V&M Star Steel's $650 million expansion will start next month, company officials said. The blue section of the drawing is the addition location.
Three new pipe mills have been announced in the past five weeks.
YOUNGSTOWN — V&M Star is ramping up production at its current pipe mill here as it prepares to build a new one.
The mill on Martin Luther King Jr. Boulevard was operating at 50 percent capacity last month but is now at 65 percent and headed higher, said Roger Lindgren, V&M president.
He declined to forecast when the mill could reach full capacity, but he said it soon will be at 70 percent. The goal now is to increase production gradually to emphasize safety, he added.
All 480 workers are back on the job after some earlier layoffs, he said.
An improving economy and a halt to Chinese imports is creating more demand for V&M, which announced Monday that it will build a second pipe mill at its site.
V&M isn't the only company trying to take advantage of increasing demand, however.
In the past five weeks, two other companies have announced plans to build new mills to produce pipe for natural-gas exploration.
Boomerang Tube of Missouri announced two weeks ago that it is renovating a vacant Texas plant into a $200 million pipe mill, and a German company, Wilh. Schulz, last month selected a site in Mississippi for its new $300 million pipe mill.
V&M's new mill is the largest of the three projects. V&M will start construction next month on its $650 million pipe mill, which will employ 350.
Two of three new mills, V&M and Boomerang, will produce pipe for drillers in the Marcellus Shale, as well as other drillers. The Marcellus Shale is a large natural-gas field hidden in shale deposits under eastern Ohio and nearby states that has been opened up by advanced drilling techniques.
Gregg Eisenberg, Boomerang Tube president, said the nature of drilling in shale creates a large demand for pipe producers.
The first year of production for these wells normally is extremely high, but the decline is rapid in the next one or two years, which means a large number of wells are needed, he said.
Producers also are ramping up production because of a recent trade case that levied duties on Chinese imports of pipe for oil and gas exploration. The Chinese government was found to be giving unfair subsidies to its pipe producers and a preliminary ruling found the producers had sold pipe below the cost of production.
Lindgren said duties approved last month were an important factor in V&M's decision to go ahead with its new mill.
There have been no Chinese imports recorded since the duties were approved, so users of pipe are starting to reduce their inventories, he said.
Eisenberg said Chinese shipments accounted for 32 percent of the market for oil and gas exploration in 2008. At full capacity, the V&M and Boomerang mills will produce about 700,000 tons of pipe a year, or about 17 percent of current demand.
The mill by the German producer is to specialize in a newly developed pipe that is targeted at deep-water drilling fields in the Gulf of Mexico and for refineries.
Many drilling areas will see increased activity because demand for natural gas also is on the rise, Eisenberg said.
About 20 percent of natural gas is used by industry, and plants that make steel, chemicals, plastics and other materials are expected to use more gas as the economy improves, he said.
Demand for pipe used by the oil and gas industry is expected to be 4 million tons this year but could rise to 5 million tons within two years, he said. Demand had been 5.4 million tons in 2008 before being curtailed by the recession.
Eisenberg used to be president of Maverick Tube in St. Louis. Maverick bought the former LTV Tubular mill in Youngstown in 2002 but then closed the local plant the next year.
Eisenberg left Maverick in 2004 when it was bought by a Luxembourg company. He formed Boomerang two years ago.
shilling@vindy.com