Group formed for MS victims
MS365 hopes to grant its first 'dream come true' by the end of the year.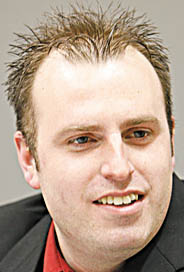 Photo
David Serotko, founder of MS365
CORTLAND — Just a penny a day, $3.65 a year, will buy membership in MS365, a new organization that plans to make dreams come true for people with multiple sclerosis.
MS365, which is short for Multiple Sclerosis 365, was formed by David M. Serotko of Cortland, who was diagnosed with the disease Sept. 15, 2006, at age 28.
Multiple sclerosis is a chronic, often-disabling disease of the central-nervous system, according to the Web site nationalmssociety.org.
Serotko, a technical assistant in information technology at Salem Community Hospital, put the MS365 Web site, www.MS365.org on the Internet on Nov. 30, 2009.
He is working on getting his nonprofit charitable organization designated tax-exempt under section 501(c)(3) of the Internal Revenue Code.
Serotko said he hopes MS365 can grant its first "dream" by the end of the year.
He envisions MS365 working similarly to Make-A-Wish Foundation for children but for adults with MS and their families.
Serotko, a 1997 graduate of Jackson-Milton High School, is being helped in his endeavor by several friends and his wife, the former Selena Smith of Southington.
"Where I look for help from Selena is in the business end of MS365, keeping the records. She has been very supportive of me and my wanting to help others in the same boat," said Serotko, who earned a computer-technology associate degree in 2006 from Kent State University Trumbull Campus.
Selena is human-resources coordinator at Trumbull Mahoning Medical Group in Cortland.
Serotko said he understands the depression and anger that can come when people find out they have multiple sclerosis.
He said he had inklings that he had the disease long before the diagnosis, so the diagnosis was not a complete surprise.
"I had done a lot of research on the Internet, and my symptoms, like tingling in my leg and numbness in my sides, pointed toward MS," he said.
"In a way, the MS diagnosis was a relief because the symptoms also pointed toward a possible brain tumor, which was a huge fear," Serotko said.
Even so, he said it took him months to accept MS as a fact. It also made him realize that things such as MS can happen to anybody.
He said his approach to the life-changing condition was to take it as a positive.
"I sort of know now what's coming. In 20 years, I could be in a wheelchair. It could be much worse. MS365 is just my thing to deal with it," he said.
"It also made me live more for today and want to do things while I can," he said.
"Talking to a homeless man who I didn't immediately realize was homeless made me realize there are people out there that need help," he said.
Serotko said that, like the homeless man, people with MS don't always seem sick.
His immediate goal is modest: Attract enough members at $3.65 a year to get the money needed to finance 501 (32) (c) tax- exempt status. He said the first 365 registrants have a chance at winning $100.
The long-term goal is to reach $10,000 in donations and grants so MS365 can begin making dreams come true.
"We thank everyone for the overwhelming support so far and hope to continue making strides in the coming months," Serotko said.
alcorn@vindy.com