Don't try to knock down icicles from homes, roofing officials say
The Mahoning Valley is expected to get several inches of new snow by late this afternoon.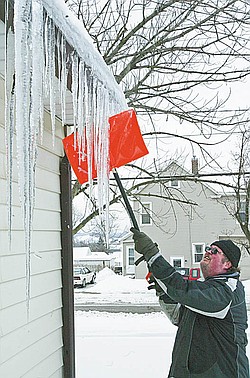 Photo
DOn'T DO THIS: David Kovach knocks down icicles on his Plymouth Street home in Girard. Roofing and gutter company officials say don't do it to avoid possible injury and damage to your home.
YOUNGSTOWN — Those thick, long and annoying icicles hanging on your home should be left alone in most cases unless you want to risk damage to yourself and your house, local gutter and roofing company officials say.
The icicles form a natural drainage system for the snow and ice that builds up on roofs and gutters, said Sam Boak, president of Boak & Sons in Austintown.
"Unless the icicles are all the way to the ground or real long ones or your downspout has a huge piece of ice on the corner of your house, don't do anything," he said. "It's a dripping and support system that helps keep the gutters in place. If you start knocking them down, and your gutter falls down, you've got bigger problems. Leave the gutters alone."
Boak said his company has handled a lot of calls from customers who've tried to knock down icicles hanging from their houses and ended up damaging their gutters.
Because of the low temperatures, Boak said the only thing that can be done with damaged gutters is to pull them away from the house and wait till it gets warmer to replace them.
David Nixon, president of Quality Rain- gutters Inc. in Columbiana, said when there is this much ice and snow "there's not a whole lot you can do. Leave the icicles alone. You can hurt yourself. It's not safe" to knock them down.
And don't get on your roof to clean snow and break up ice, they say.
That's "the worst thing you can do," Boak said.
It's important that a house has a good ventilation system for heat and enough insulation, said Brian Groover, owner of Groover Roofing and Siding in Girard.
"The more heat you have escape, the more icicles you'll get," he said. "That can also cause water to build up and come into your home. It's not recommended for a typical homeowner to remove icicles because it could cause damage to spouting and roofing, and the icicles could fall on you. There's always a risk factor to the house and a person" when you knock down icicles.
"If there's nothing coming in the house, I'd let Mother Nature run its course, even if you have a massive amount of icicles," Groover said.
It's not a good idea to go outside with a broom or a plastic shovel and start knocking down the icicles hanging from your house, the gutter and roofing company officials say.
If gutters fall down, most insurance companies cover the repair or replacement, Nixon said.
There's no sign the snowstorms are letting up anytime soon.
The Mahoning Valley was supposed to get 4 to 7 inches of new snow between Monday and late this afternoon in Columbiana County, 4 to 6 inches in Mahoning County, and 3 to 5 inches in Trumbull County, according to the National Weather Service. Three to 6 inches are predicted in Lawrence and Mercer counties.
There is a winter storm warning for Columbiana County and a winter weather advisory for the other four counties in effect until noon today.
Snow is also likely for this evening and Wednesday, according to the NWS forecast. There also are a 40 percent chance of snow showers Thursday morning and early afternoon and a 50 percent chance of snow Thursday in the late afternoon and evening.
Though the forecast calls for Friday afternoon to be partly sunny, there's a 30 percent chance of snow that evening.
Except for Feb. 8, it has snowed every day this month in the Valley, according to weather service records.
Boardman has banned parking on public streets until further notice.
skolnick@vindy.com