Tiny Tots Skate and Bounce session at the Skate Zone in Austintown has the kids rolling.
IN FOCUS: Skate Zone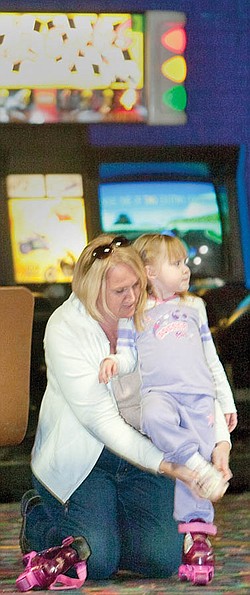 Gallery
By GEOFFREY HAUSCHILD
VINDICATOR PHOTOGRAPHER
Can we go skating? That's the question that greeted Jordan Bond's father, Carl Bond, and his fianc e, Jodi Sweeney, over and over in recent weeks.
The pleas began after the 3-year-old Boardman boy received his first pair of roller skates on Christmas Day and wanted a venue more suitable than the floors of his family's home.
On a Thursday afternoon, the persistence paid off, and Jordan found himself tightly clutched to the adults, inching his way across the floor of Austintown's Skate Zone, 5420 Mahoning Ave.
He skated for five minutes," said Jodi, "then he played in the play area. He was much more interested in playing with the other kids."
"The cost is $5, and there is so much for them to do," said Lynn Pegg of Vienna, who brought her 2-year-old son, Jimmy Pegg, after hearing about the program from a friend.
Children can roller skate, cruise around on sitting skates or a big wheel, explore the multistory play area made of webbing, or if their parents are feeling generous, shell out some change for video games or a snack from the snack bar.
The Tiny Tots Skate and Bounce program lasts from 11:30 a.m. to 2 p.m. every Thursday; admission is $5 for a child (siblings $3 each), and admission and skate rental for parents and babies under 1 year is free.
"It's awesome ... awesome. We'll definitely be back next week," said Lynn Pegg.
With so much to do, it's no wonder Jordan and other kids stray from skating at the rink.
But according to customers such as Sandy Virostek of North Jackson, that's the appeal of Skate Zone's Tiny Tots Skate and Bounce session. With winter in full swing, "It's hard to find things that are clean and with other kids," said Virostek, who brought her 3-year-old daughter, Elizabeth. "It gets her playing with other kids her own age, helps her socialize, and there aren't the bigger kids pushing her around," she said.
Despite the lack of competition with older kids, a cry still rang out, this time not the knee-jerk reaction from a fall on the rink.
"Are you tired?" a woman asked her child as the clock approached 2. "Plus, it's nice 'cause it wears them out and you can get them to bed on time," Virostek added with a laugh of relief.
Back on the rink, Jordan decided to give skating anoth-er try, and it became apparent where the holiday wish came from. The boy is all smiles and laughs as his father carries him around the rink both forward and backward.
"He always pulls his dad's skates out of the closet and tries them," said Jodi, who said that in addition to being an EMT, Carl worked at another rink for two years.
"It's good exercise," said Carl, "and it sure beats sitting in front of the TV all day."
With some help, Jordan braves the rink on his own two feet, gaining a bit of comfort with each glide.
"Did good for your first time," said Carl as he helped the boy change back into his shoes. "Did you have fun? Do you want to come back next week?" he asked.
"Yeah," said Jordan.
"We'll come back next week, I promise," said Carl as the family walked out the door.
XMore information can be found by calling (330) 270-4FUN (4386).