Second Season || Boys tourney pairings set
Warren Harding, Poland, Newton Falls, McDonald and Mathews pick up No. 1 seeds.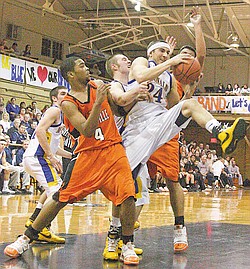 Photo
MCDONALD - (24) Matthias Tayala rips down a rebound Tuesday night in McDonald. - Special to The Vindicator/Nick Mays
By JOHN KOVACH
VINDICATOR SPORTS STAFF
HOWLAND — Everyone deserves a second chance, which is one of the reasons why the high school basketball postseason tournaments have become so popular.
The second season gives a team which has struggled early but shown steady improvement a golden opportunity to shed its underdog tag and dump the top dog to gain redemption and turn around a lackluster campaign.
Such an incentive coming from lowly teams poses a distinct challenge to highly-successful squads like, for example, undefeated McDonald High, which was seeded No. 1 for the boys Division IV sectional-district tournament at Struthers Field House during pairings held Sunday afternoon at Howland.
Besides McDonald (16-0), the other four seeded teams who will have to be wary of hungry teams looking for upset wins beginning March 1 were Poland (15-1) in the Div. II tournament at Boardman High; East Canton (17-0) for the Div. III meet at Salem High; Newton Falls (15-3) in the Div. II tourney at Howland High; and Mathews (14-2) in the Div. IV event at Warren Harding.
The success of Howland's Div. IV tournament the past two years can be considered a typical example of the drawing power of fans, who are looking for their teams to spring that big ambush of favored opponents or go the distance to a district, regional and state title.
"We have had great tournaments [at Howland]. Both of the previous two years have been sellouts," said Ron McCleary, the tournament manager who also directed Sunday's five-tournament pairings under the jurisdiction of the Ohio High School Athletic Association's Northeast Ohio Board of Directors. "The teams we have had have good followings and it has been a good atmosphere for basketball."
McDonald will have a target on its back but the Blue Devils, under seventh-year coach Jeff Rasile, will be a tough nut to crack, considering they have a balanced attack and an atmosphere of winning. McDonald went 21-1 last year and has won 38 consecutive regular season games, dating to the 2007-08 season.
"Last year, we had 10 guys and more depth. This year we only have six guys but all five starters have led the team in scoring in at least one game this season," said Rasile, who took a first-round bye to play the Jackson-Milton-Western Reserve winner March 5. "All five were full-time players last year. And five of the six were on two undefeated football teams."
Rasile was referring to a starting nucleus with balanced-scoring: senior Devin Bansberg (13-point average), juniors Nick Rota (12) and twin brother Justin Rota (10) and senior Zach Puntel (10), each capable of leading the attack.
Meanwhile, unbeaten East Canton (17-0, 12-0 in the Portage Trail Conference), like McDonald, also looms in the shooting sights of upset-minded challengers.
But third-year coach Chad Spurgeon is encouraged by having five seniors, led by Joe Cartwright, Zell Bradley and Josh Smith, and talented junior leader Ryan Burfield with a 20-point average to fend off any upset-minded rivals. Smith is averaging 10 rebounds.
"Our team has good chemistry, familiarity and experience," said Spurgeon, whose team drew a first-round bye and will play the Ursuline-Springfield survivor March 5.
"Last year, we were in the Div. IV meet last year at Struthers and lost to Youngstown Christian in the district final, but got bumped up to Div. III this year."
Coach Roy Sembach of Newton Falls (15-3, 6-2 All-American Conference), whose Tigers will play Liberty in a first-round game March 2, is in his 23rd year as the team's coach and is a poster-coach for loving the postseason.
"Everybody has a chance at the end of the season. They look forward to a second chance," said Sembach, whose teams have won four district titles but have lost in the district finals the past two years.
But Sembach is optimistic this time around. "Our younger players are growing in experience," said Sembach, whose leaders are senior Brian Sole (18.5-point average) and sophomore Cody Dillon.
At the opposite end of career tenure, first-year coach Ron Price of Mathews (14-2, 11-0 Northeast Athletic Conference) is hoping to strike it tourney-rich in his rookie year with the Mustangs.
"We have been defending well, executing and scoring points. We're shooting well," said Price, whose team got a first-round bye and will oppose the Newbury-Southington winner on March 5.
Price has an experienced team and all the players can score points.
"We start five seniors," said Price, noting his leaders are Clyde Morgan (16-point average), Collin Bowser (15) and Shane Link (10). The other starters are Cory Lumley and Rick Summers.
Poland, one of the top Div. II teams overall in the state, also took a first-round bye and will open tourney play on March 3 against the Southeast-Crestwood winner.
In other drawings on Sunday, Canfield was seeded No. 5 to lead area picks for the Div. I tournament at the Canton Civic Center, while Massillon Jackson was No. 1. And Warren Harding (14-2) was the No. 1 seed for the Div. I tournament at Solon High. That tournament was moved from Warrensville Heights to the larger gymnasium at Solon.
kovach@vindy.com