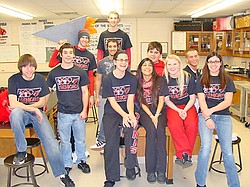 Photo
Neighbors | Submitted .Members of the senior week celebrate their Spirit Week victory on Feb. 5. Students dressed up in red and black for a pep assembly and class skits.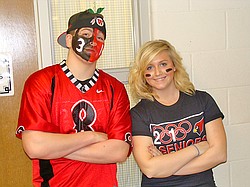 Photo
Neighbors | Submitted .Canfield High seniors Tim Calhoun and Brittany Wilkins show school spirit on Red and Black day during the school's annual Spirit Week.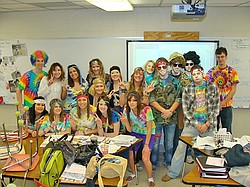 Photo
Neighbors | Submitted .Canfield High School students dress up for school theme day on Feb. 4. All classes put on '60s garb for "Peace, Love and Cardinals" day.
The senior class at Canfield High School were crowned Spirit Week champions at a pep rally on Feb. 5.
The seniors earned the most points in the school's annual spirit week competitions, which included a class hoop competition and a canned goods drive for Operation Blessing.
The school collected 15,000 canned goods overall.
Each class performed a skit during the week's culminating pep assembly on Feb. 5. Classes were awarded points based on their skits, as well as on school spirit during the assembly and on how many members of the class wore school colors for Red and Black Day.
Spirit Week events began on Feb. 1, when students posted signs on campus to get their classmates excited about the upcoming events and about their class themes. Students dressed up for their respective class themes on Feb. 3.
The freshman class dressed in rock n' roll garb for their "The Cards Will Rock You" theme, while the sophomores put on their glamorous gear for their "Roll 'Em Out" theme. The juniors wore togas for an "All Roads Lead to Canfield" theme, and the winning senior class went with an Olympic theme for "The Cards are a Perfect 10."
All of the classes channeled their parents' generation for a school wide "Peace, Love and Cardinals" theme day on Feb. 4.
Classes were also awarded points for participation in Class Color Day on Feb. 2. Seniors dressed in blue and juniors dressed in brown, while sophomores wore green and the freshman class donned yellow for their first spirit week.
More like this from vindy.com