Happy Valentine's Day? No way at party in Niles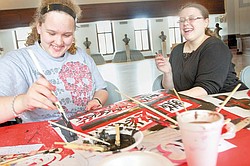 Photo
ANTI-PARTYING: Emerald Collins, 15, and Aree Adams, 14, both of Niles, paint during an anti-Valentine's Day party at the William McKinley Memorial Library in Niles on Thursday afternoon.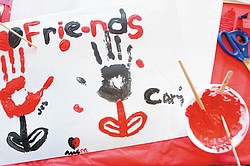 Photo
A DIFFERENT TAKE: Audra Dull, 15, of Niles, gave her opinion of the holiday in this painting, created during Thursday's party. Contrary to the theme of the Anti-Valentine's Day event, she said she considers the Feb. 14 observance "cool."
BY JORDAN COHEN
VINDICATOR CORRESPONDENT
11Organizers said they were giving the teens a chance to talk about what they don't like about Feb. 14, but one emphasized that the party was not just about venting.
"It's a healthy way for them to express their changing emotions, and it's not all about negativity," said Stephanie Schatz, public-services librarian. "Its focus is on friendship and a place to come together."
"I just wanted to see all of my friends," said Cari Hosey, 14. "I don't really have anything against Valentine's Day."
Emerald Collins, 15, said she, too, came to "hang out."
The party attracted only six teenagers, all girls, most of whom are ninth-graders at Niles McKinley High School. Schatz said the turnout was limited because Niles schools were closed Thursday due to weather and road conditions.
Yet there was no mistaking the theme in the party's artwork and music.
"No, I won't be your valentine" read the caption accompanying a drawing of an arrow stuck in the neck of a prone Cupid prominently placed on a table where the students worked on hand and brush painting. Background music featured such love-gone-wrong songs as "You're No Good," "Love Hurts" and "Love Stinks."
That was just fine with Brenna Ohmes, 14, a McKinley freshman and the only one to speak out against the valentine tradition.
"I have issues with Valentine's Day because it celebrates something a lot of people don't have," she said. Asked to explain, Ohmes said she was referring to serious relationships.
Others didn't necessarily agree. "I've got nothing against it," said Audra Dull, also a freshman. "It's cool."
Scott Ronghi, a former McKinley Library young-adult librarian and now a substitute teacher, said he organized the first Anti-Valentine's Day party last year after recognizing the "rage" some young people feel about valentines. "It gives them a chance to strike back," Ronghi said.
For anyone else who feels left out and for those who don't, the library is planning a "Diary of a Wimpy Kid" party in March to coincide with the release of a movie based on the popular series of children's books. Schatz said the party is open to all children age 10 and older.