Man jailed for wearing jeans
Dressing for Success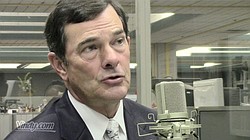 Video
When it comes to law, bring your best suit. Judge Scott R. Krichbaum insists upon appropriate dress for his courtroom. In particular, blue jeans are not allowed.

Photo
YOUNGSTOWN — A judge has jailed a former Poland Avenue bar owner until further notice for arriving at court wearing blue jeans in violation of the judge's previous command.
Judge R. Scott Krichbaum of Mahoning County Common Pleas Court ordered John Messer, owner of the former Riverbend Tavern, who had been free on $75,000 bond, to change into a red-and white-striped jail uniform before appearing at a pretrial hearing on drug-trafficking charges in the judge's chambers.
"What are you doing here improperly dressed for my court?," the judge asked Messer at the start of Thursday's hearing.
"I'm sorry, your honor," Messer replied.
"Sorry does not pay the rent. The last time you were here, you were advised to dress properly for this court," the judge fumed. "You're contemptuous. You're making a bad mistake with me, mister," the judge added.
Messer's trial had been set to begin Tuesday, but the judge postponed it to March 8, with a final pretrial hearing at 10 a.m. March 4.
The judge granted the delay, which he rarely authorizes, at the request of Messer's lawyer, Mark Lavelle, and Martin P. Desmond, an assistant county prosecutor, who sought the postponement because Messer's previous lawyer, Dennis DiMartino, last week received a one-year disciplinary suspension from law practice.
Messer, 58, of Raccoon Road, Austintown, was indicted on 17 counts of drug trafficking, reportedly occurring between July and October 2009, and one count of engaging in a pattern of corrupt activity between July and November 2009, all pertaining to alleged events at the Riverbend Tavern.
The drug-trafficking counts pertain to sales of cocaine and prescription pills (Vicodin and Oxycontin).
The former bar at 1105 Poland Ave. has been boarded up since Nov. 5, when city Prosecutor Jay Macejko obtained from Judge Krichbaum a temporary restraining order, which closed the bar as a public nuisance.
In a Nov. 5 raid, police said they seized suspected illegal drugs and video-gambling machines at the bar.
Macejko said an undercover informant made 13 controlled purchases of suspected crack cocaine and prescription pills at the bar over four months.
Last month, Judge Krichbaum and Magistrate Timothy G. Welsh signed a preliminary injunction keeping the bar closed as a public nuisance until further notice.
milliken@vindy.com