---
Thursday, February 11, 2010
By Harold Gwin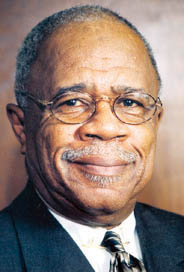 Photo
Loch Beachum, Youngstown City School Board
YOUNGSTOWN — The city school district isn't getting the revenue it anticipated from the four-year emergency tax levy voters approved in November 2008.
William Johnson, district treasurer, told the school board's finance committee that the district is getting only about $4.8 million of the projected $5.2 million in annual revenue the 9.5-mill levy was to produce.
Lock P. Beachum Sr., committee chairman, said the shortfall will hurt the district's budget as the system seeks to emerge from state-imposed fiscal emergency, the result of it running a general-fund deficit in 2006.
The levy was expected to provide $20.8 million in new revenue over its four-year run. Collection rates indicate the total may fall about $1.6 million short, Johnson said.
The district is having problems collecting its property taxes in general, he said, telling the committee that delinquencies now total about $9 million.
People have left their properties and moved away, and some just aren't paying their taxes, opting to spend their money on necessities in a difficult economy, he said.
This year's budget shows the district ending the current fiscal year June 30 with a general fund balance of between $3 million and $4 million. The district has trimmed $32 million in spending and cut about 450 jobs over the last few years as it seeks to return to fiscal solvency.
That black ink will begin to dwindle when the tax levy expires in 2013, and the school board has been talking about the need for another $2 million in spending reductions to help avoid a return to insolvency.
Beachum asked if that additional reduction is still necessary and advised Johnson to prepare a "state-of-the-state" financial report to show the board and the public exactly where things stand.
Johnson has suggested in the past that the district might have to ask voters to renew the levy or approve a smaller levy down the road to keep spending out of the red, and the state fiscal oversight commission controlling district spending during its time in fiscal emergency has suggested a similar scenario.
School board members aren't interested.
Give the board a picture of what is needed to avoid another levy, Beachum told Johnson.
The district will never pass another levy, board member Michael Murphy said, suggesting that additional spending cuts are the only key to avoiding a budget deficit. The district needs to adopt a "no-more-levy" mind set, he said.
Superintendent Wendy Webb told the committee that a plan for additional reductions to be made in 2010-11 is nearly finalized and will be presented to the school board soon. The administration is fully aware of the need to continue cutting costs, she said.
gwin@vindy.com