4,000 pay homage to 'a blessed life' at Covelli Centre
By LINDA M. LINONIS
Vindicator Staff Writer
Bishop Norman Wagner Funeral Service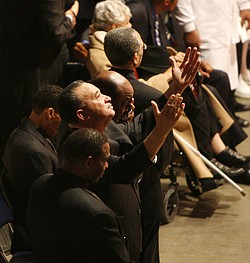 Gallery
YOUNGSTOWN — An estimated 4,000 walked, drove, came by bus and traveled by plane — all in snowy conditions — to pay their respects during a "homegoing service" Wednesday in the Covelli Centre for Bishop Norman L. Wagner.
The bishop, who died Feb. 6, was pastor of Calvary Ministries International and known worldwide as a minister and speaker.
Public viewing was from 9 to 11 a.m. with the nearly five-hour service concluding about 4 p.m. The Levites of Calvary provided musical tributes.
Burial followed at Green Haven Memorial Gardens in Canfield and concluded a three-day event that included a Gospel music concert and public viewing.
Among the mourners were Deacon Joseph Menefee of Faith Ministries in Tuskegee, Ala., who drove 20 hours with his traveling companion, Bishop George Alston. The young deacon said they came to attend the homegoing service and pay "homage to a blessed life." Menefee said Wagner's life was dedicated to God, and that the service echoed that.
Elaine Harp Carlton of Columbus, formerly of Youngstown, spent 41⁄2 hours on the road to attend Tuesday and Wednesday services. "He was a great mentor," said Carlton, whose father, Richard Harp, was a deacon at Calvary for 40 years. Carlton said Wagner fostered the goal of a "spirit of excellence" in her and many others.
A host of speakers addressed "heavy hearts" at Bishop Wagner's passing. All noted the spiritual legacy of leadership and faith that Bishop Wagner left his family, congregation and community, locally and globally.
Bishop Wagner served as presiding prelate of the Pentecostal Assemblies of the World Inc. from 1998-2004 with more than 2,000 churches under his leadership. In 1986, he developed an international leadership conference, Pentecost In Perspective, that took place in the city.
Some speakers voiced the emotion being felt — that Bishop Wagner had been taken too soon. But Bishop Horace Smith, who delivered the eulogy, used a well-known passage from the Bible as an explanation. The passage was from Ecclesiastes 3:1-8, "For everything there is a season, And a time for every matter under heaven; A time to be born, and a time to die" ....
The presiding prelate of the PAW, told the crowd that "we hurt today because we have lost a brother and father."
"If you knew him 25 minutes or 25 years, you knew he was special," Bishop Smith said. The bishop also said that Bishop Wagner's life's work instilled courage and faith in all those he touched, and that will be his most enduring legacy.
Bishop Lance Foster, of the 8th Episcopal District of PAW, offered a Scripture reading and noted that Bishop Wagner showed that worship was not "just clapping and singing but a lifestyle."
Bishop A. Glenn Brady, PAW secretary, described the late bishop as "a pioneer in the Pentecostal circle."
Bishop Michael Franklin, 31st Episcopal District of PAW, said Bishop Wagner often said that life was a gift and he advised all to honor that thought by valuing life.
Franklin C. Showell, presiding prelate of International Bibleway Church of Jesus, called Bishop Wagner a "generation trendsetter." He noted the bishop encouraged all to pursue an extraordinary life. "There is no separation between spiritual life and your other life."
Monsignor Robert Siffrin, vicar general and moderator of the curia for the Catholic Diocese of Youngstown, who said he knew Bishop Wagner for 20 years, said: "He epitomized the message of the Gospel." Monsignor Siffrin said that people should "follow his example of serving God's people."
Bishop Monroe Saunders Jr., presiding prelate of the United Churches of Jesus Christ, described Bishop Wagner as the "epitome of an apostolic statesman" and "visionary."
District Elder June Cranston Young, representing the European Council of Nations, London, England, said Bishop Wagner's leadership "empowered the people." He founded and presided over ECN, a Christian organization of church leaders in Europe of varying ethnicities and languages from some 40 churches, for 20 years.
The bishop's brother, Arnold J. Wagner, offered glimpses into their childhood and praised his sibling's "global ministry."