Valentine's Day calls for romantic date
There are Valentine's Day dates available to fit any budget.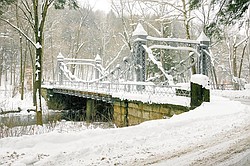 Photo
Picturesque spot: If you are brave enough to face winter's fury, another place to take a Valentine's Day date is the historic Silver Bridge in Mill Creek Park in Youngstown.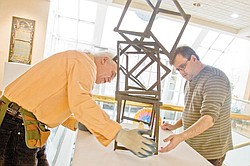 Photo
MEN AT WORK: Ed Hallahan, left, and Wayne Grover, workers at the Butler Institute of American Art on Wick Avenue, Youngstown, help stabilize Jedd Novatt's artwork. The art museum is a good place to spend time on a Valentine's Day date. The daily admission cost: free.
Love is in the air — or at least, it sure seems that way.
Arrow-shooting cupids and pink and red hearts decorate the greeting-card and candy aisles at the grocery store, and your e-mail inbox is bombarded with messages reminding you that there's still time to order roses or chocolates for your special sweetie.
That's right, Valentine's Day is right around the corner — Sunday, to be specific.
So, what to do if you're still pining to pin down plans for the weekend?
No need to worry. If you've got someone special — which is half the battle — there's an abundance of fun and romantic ways to celebrate right here in the Mahoning Valley.
So, maybe you've just started dating or maybe you don't have a lot of extra money for an extravagant excursion. How can you still impress your date on a shoestring budget?
Head to downtown Youngstown to take in some great art at the Butler Institute of American Art, where daily admission is free.
And what can be more romantic than spending a night together under the stars? Another fun and free date idea is just a short walk away at the Ward Beecher Planetarium at Youngstown State University.
The planetarium will host "Stars," an hourlong program that illustrates the life cycle of a star and features a star show at 8 p.m. Friday and Saturday.
"It's a good general show. ... It's graphically a very nice show, and you'll also see stars with the program projector," said Dr. Patrick Durrell, associate professor of physics and astronomy and Ward Planetarium director.
Taking in the natural beauty — either on foot or in the car — of Mill Creek MetroParks is another free favorite.
For an active date, consider taking the "Love of Nature — Feeling Great," a scenic 3 1'Ñ2-mile nature hike at 2 p.m. Sunday that winds through scenic winter trails.
Linda Kostka, Mill Creek MetroParks development and marketing director, said the park also is a natural romantic setting for a winter drive, especially passing over the Silver Bridge or by Lanterman's Mill.
"I think any drive in the park can be very nice at this time of year. The trees don't have leaves, so you can see the [birds'] nests. You can also park for a little bit and look at the scenic overviews of the lake," she said.
If you're looking for live entertainment, "Symphonic Valentine" will be at 8 p.m. Saturday at the DeYor Performing Arts Center, downtown Youngstown, featuring love songs performed by the Joe Augustine Trio and Anne Runolfsson. Runolfsson starred as Carlotta in the Broadway version of "Phantom of the Opera."
And if you don't mind a little adult humor, the nearby Oakland Center of the Arts at 220 W. Boardman St., will feature "An Adult Evening of Shel Silverstein" at 8 p.m. Thursday through Saturday, and you can ring in Valentine's Day early with a midnight showing Saturday.
If you want to kick up your heels, the Fred Astaire Dance Studio at 5090 Market St. in Boardman will host a dance competition and professional ballroom demonstration Saturday.
The public is invited to attend the competition and demonstration for $25 per person. Dinner is included with the admission fee, and couples also can sign up for future dance lessons, said Travis Manero, Fred Astaire owner and manager.
And what could be more romantic than sharing an intimate, candlelit dinner?
At Selah, a quaint restaurant in a renovated bank building at 130 S. Bridge St. in Struthers, will feature "desserts for two" on its menu and vocalist Rachell Joy will perform love songs from 6 to 9 p.m. Sunday.
The Blue Iris, an intimate cafe at 176 N. Park Ave. in Warren, will feature a savory six-course dinner Saturday with an extensive lineup featuring a peach melba salad, lobster bisque, a 2 1'Ñ2-ounce filet mignon tenderloin, sorbet and a champagne chicken entree.
A dessert trio includes cheesecake-filled chocolate-covered strawberries, key lime pie shooters and chocolate-chip bread pudding, and guests can bring their own wine for a $5 corking fee. Reservations are $75 per person and must be made in advance, said Melissa Murphy, Blue Iris chef and co-owner.
"It really is a romantic setting. We do rose petals on all the tables. It really is nice," Murphy said.
And if money is no object, and you just want you and your honey to get away from it a0ll, Julia's Bed and Breakfast in Hubbard is where guests can get away, without going far away.
The inn, at 6219 W. Liberty St., features six guest rooms, and guests can get a full-body massage or private candlelight dinner on premises, said Teri Moser, innkeeper.
"It's all geared to romance. Our big rooms feature king [sized] beds, fireplaces and jacuzzis," Moser said.