MYCAP refuses to release reaction to probe
The original deadline for MYCAP's response was Jan. 31.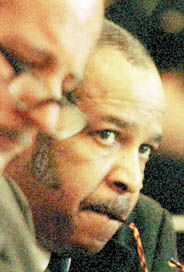 Photo
YOUNGSTOWN — A local nonprofit agency officially responded Friday to the state's investigation into its operation, but it is refusing to make its response public.
"It is our position that our response is not a public record, and we respectfully decline" to release the document, said Atty. Percy Squire, legal counsel for Mahoning-Youngstown Community Action Partnership, on Tuesday.
The Ohio Department of Development, which is conducting a special financial and program-review report on MYCAP, also is not releasing the local agency's response.
"It is part of our investigative record," said Eileen Turner, public information officer in ODOD's Communi-cations and Marketing Division.
MYCAP is a nonprofit agency that administers these programs for children and low-income Mahoning County adults — Head Start, Early Start, Women, Infants and Children (WIC), Home Energy Services, Food Service, Home Energy Assistance, Senior Services Outreach, Dial A Ride Transportation Services, Emergency Homeless and Life Skills Development programs.
Previously, Richard A. Roller II, MYCAP's executive director for 10 years, said release of the report by the state before it was complete damaged the local agency and his own reputation.
At the time, Roller said he did not believe he had done anything wrong and welcomed a full investigation of the agency and himself.
"It would exonerate us," said Roller during a previous interview in which Richard W. Atkinson, chairman of the agency's trustee board, also participated.
"I recognize the state's right to look at our funds, and if anything is wrong, I'd be glad to fix it," Roller said at the time.
But a request for Roller to comment about MYCAP's response to the state resulted in Squire's brief statement.
The original deadline for MYCAP's response was Jan. 31, but the agency was granted a one-week extension, which was met, Turner said.
During his January press conference, Roller said the state review was triggered when MYCAP told ODOD on Sept. 29, 2009, that it was conducting an internal investigation about a supervisor who was reported to have solicited loans from employees and vendors.
The state notified MYCAP on Oct. 9, 2009, that it planned its own investigation based on unsolicited feedback regarding weatherization issues at the agency. ODOD representatives spent Oct. 26 and 27 at the local agency going over records.
The upshot of the unsolicited feedback, which Roller said was supplied by the permanently laid-off MYCAP employee, is what ODOD calls issues and concerns in its report and questioned costs of $15,101.
In its report, ODOD said it received information from a laid-off MYCAP worker that weatherization services were performed at Roller's home by MYCAP employees.
alcorn@vindy.com