Maurice Clarett again seeking early release
Staff/Wire Report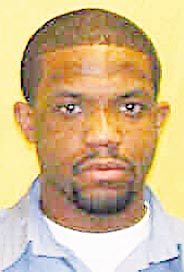 Photo
Ohio Corrections
COLUMBUS — Maurice Clarett's latest play is under review.
The former Ohio State football player is again seeking early release from prison after withdrawing his first request last summer.
Clarett, who scored the winning touchdown for the Buckeyes in the 2002 national title game, has filed a motion asking a judge to release him. No court date has been set.
Clarett, a Youngstown native who graduated from Warren Harding High, still hopes to pursue a football career.
Franklin County Prosecutor Ron O'Brien said on Tuesday he'll wait for a prison report on Clarett's conduct before deciding whether to support or oppose early release.
Clarett pleaded guilty in September 2006 to having a hidden gun in his sport utility vehicle and holding up two people outside a Columbus bar in a separate case.
He was sentenced to 7-and-a-half years in prison with possible release in 3-and-a-half years.
Ohio law permits an inmate who has served a designated part of his sentence to apply to the sentencing judge for an early release from custody.
Clarett became eligible to file a judicial release motion on Feb. 5.
O'Brien was notified by Delaware attorney Michael Hogue that as counsel for Clarett he has filed a motion for judicial release.
On Sept. 18, 2006, Clarett pleaded guilty to two felony offenses and was sentenced to 71'Ñ2 years imprisonment.
His offenses included aggravated robbery with a firearm for the robbery on Jan. 1, 2006, of two persons in the alley behind the Opium Lounge in downtown Columbus.
The other was for carrying a concealed weapon related to his arrest on Aug. 9, 2006, after a car chase by police on the far East Side of Columbus.
At the time he was sentenced, the prosecution agreed not to oppose an application for judicial release if Clarett had a satisfactory record for behavior during the time of his confinement.
The law requires a hearing before judicial release may be granted, and that the court and prosecutor shall receive a report from the prison system regarding the inmate's behavior, adjustment and conduct.
The prosecutor's office is required to notify the victims of the offense that judicial release has been requested and a hearing scheduled.
If Clarett has no disciplinary citations and has maintained good behavior during his confinement, the prosecutor's office, upon receipt and review of the report from the prison system, will file a memorandum with the court that states no opposition to early release.
Upon release from that program, Clarett is subject to community control supervision by the court probation department for a period specified by the court.
Copyright 2010 Associated Press. All rights reserved. This material may not be published, broadcast, rewritten, or redistributed.