St. Dom suspect's case goes to grand jury; parents held
The combined bond on the family is $3.45 million.
Jamar Houser Preliminary Hearing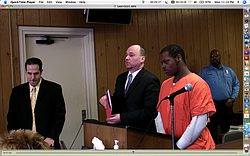 Video
YOUNGSTOWN — The case against a man accused of robbing and killing an 80-year-old woman on church grounds will be heard by a Mahoning County grand jury.
Meanwhile, Jamar Houser's parents wait in the county jail, charged with trying to retaliate against a witness in their son's case. All three are in jail.
Houser, the suspect in the Jan. 23 killing of Angeline Fimognari at St. Dominic Church, appeared Monday for a preliminary hearing before Judge Robert Milich of Youngstown Municipal Court.
He is charged with aggravated robbery and aggravated murder of the longtime Sheridan Road resident and is in jail on a $3.1 million bond.
Youngstown police and court personnel twice searched all those who wanted to attend the hearing.
Several members of the Fimognari family were on one side of the courtroom. A woman who said she was Houser's aunt also came into the courtroom, but she was later asked to wait outside of the courtroom during the proceedings.
A handcuffed and shackled Houser entered the courtroom at about 1:35 p.m. His attorney Michael Villani told the court Houser would be waiving his right to a preliminary hearing.
When asked by Judge Milich if he understood the proceedings and wanted to waive his right to the hearing, Houser simply answered "Yes" — the only words he would speak during the hearing. He was in and out of the court in less than two minutes.
Gary Milano, a nephew of Fimognari, attended the hearing with several relatives. He said the family was hoping to hear more about the case and see what evidence there is against Houser.
"We came thinking something would happen, and it didn't," he said. "We will just have to wait and see."
The family, he said, will attend every hearing.
City Prosecutor Jay Macejko said prosecutors were ready to go forward with witnesses showing the strength of the case against Houser. Macejko said he expects to see the case presented to a county grand jury in the next 14 to 60 days.
Macejko said the prosecutor's office has received additional information in the case and continues to receive new information on a daily basis, but he would not elaborate.
He did say police still have not found the gun used in the shooting or the purse taken from Fimognari.
Macejko also said waiving the preliminary hearing and going to a grand jury was in the best interest of all involved in the case because of security issues discovered late last week.
Those security issues arose when prosecutors learned that Houser's parents reportedly threatened a witness in their son's case.
Those reported threats have landed Houser's parents in jail on more than $300,000 in cash bonds. They were arrested Friday afternoon.
John Houser, 46, and Frances Cianciola, 42, parents of Jamar Houser, appeared before Judge Elizabeth Kobly of Youngstown Municipal Court on felony retaliation charges about three hours before their son's preliminary hearing.
John Houser told the court he had no income and was in fact just released from jail less than 24 hours before being arrested on the retaliation charge. Prosecutors told the court the elder Houser's criminal history includes aggravated burglary, aggravated assault and domestic violence.
Judge Kobly appointed him a lawyer and set his bond at $250,000.
Cianciola told the court she receives only public assistance for her grandchild. Prosecutors told the court that she has no past criminal record.
Judge Kobly also appointed a lawyer for Cianciola and set her bond at $100,000.
Macejko would not give any details concerning the retaliation case against John Houser and Cianciola.
jgoodwin@vindy.com