Residents take snowstorm in stride || VIDEO, GALLERIES
STAFF REPORT
Snow Storm Hits Valley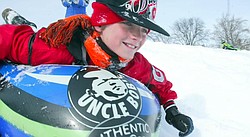 Video
A winter storm dumped more than a foot of snow on the Valley leaving residents digging out.
Your Snow Photographs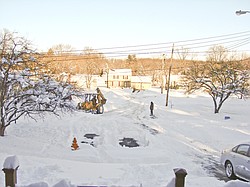 Gallery
February Snowfall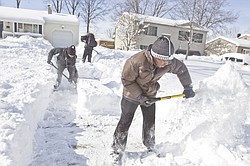 Gallery
Residents of the Mahoning and Shenango valleys took another winter slap in good spirits — for the most part.
For Thomas Bodnar, 11, of Orlando, Fla., who is visiting his family here, it was his first chance to experience sliding downhill in Mill Creek Park.
After his family's car got stuck, he got to shovel his grandfather's driveway.
Leonard Miller, 82, of Youngstown was out shoveling snow Saturday but could remember the "Big Snow" of 1950 when 20 inches fell in eastern Ohio and drifts were 25 feet deep.
Jennifer Lambert, who lives on the West Side, said her neighborhood was thankful for a man with a backhoe who would say only that his name was Tom.
"The neighborhood really appreciates it!" Lambert said. "He cleared the snow from Skywae, Dogwood, Gladwae and Rosewae, as well as many of our neighbors' driveways! There are many people in our neighborhood that work for the city and county as well as local schoolteachers. It is very nice to know that people still look for one another. Come Monday morning, many of us would not have been able to get out of our driveways for work."
On Youngstown's side streets, a common sight was the smallest adult — man or woman — hopping behind the wheel while men helped to push a car out of driveway or a snowbank while other motorists waited patiently.
And on Vindy.com, some posters took the storm and hefty accumulations as an opportunity to debate global warming.
Instead of bad weather shooting down from the north, it came in from the southeast this time.
The Canfield and Lisbon posts of the Ohio State Highway Patrol reported that the two areas had close to 40 road mishaps, none of which resulted in serious injuries. The patrol post in Warren said it had six to 10 accidents, mostly due to motorists going too fast on slippery roads. No major injuries were reported.
Information from the Pennsylvania State Police was not available.
Mark Monstrola, a meteorologist at WFMJ, The Vindicator's broadcast partner, said Boardman had 18 to 20 inches of snow, and Warren had 11 inches. Newton Falls had 12 inches, while Sharon had a little less, he said.
His forecast for today calls for partly sunny skies in the morning. He added that he didn't expect any more snow today.
Still, the Oakland Center for the Arts downtown canceled a performance Saturday night of "An Adult Evening of Shel Silverstein," saying people should stay in their jammies with hot cocoa. But the 2 p.m. show today is still on, and the Oakland will add a midnight show Saturday for Valentine's Day.
A number of churches ranging from East Liverpool to Warren have canceled services and programs today. Those and other cancellations can be found at WMFJ.com.