SNOW STORM: Stay off of the roads || VIDEO, GALLERY
Snow Storm Hits Valley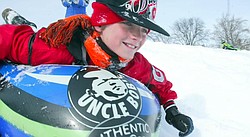 Video
A winter storm dumped more than a foot of snow on the Valley leaving residents digging out.
February Snowfall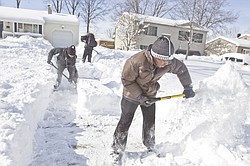 Gallery
Police officials throughout the Valley are urging residents to stay off of roads this morning. If you do not need to travel, don't.
Up to a foot of snow fell in some places overnight making main roads snow-packed and hazardous. Many side roads in some neighborhoods are virtually impassable.
The National Weather Service says the winter storm warning will remain in effect until noon today and an additional 3-to-6 inches of snow is expected. By the storm's end, the weather service said, 8-to-12 inches of snow should blanket the area with locally higher amounts expected.
Current radar shows snow tapering off from Youngstown south within the hour.
Next up in this winter blast are gusty northeast winds of 20-to-25 mph with drifting snow and visibility falling to below one mile.
For a list of cancellations, visit the Web site of The Vindicator's broadcast partner. WFMJ-TV.
For updates, keep watching Vindy.com, and e-mail us your photos to news@vindy.com.