A suspect is jailed in the city's fifth homicide of 2010.
By JOHN W. GOODWIN JR.
VINDICATOR CRIME REPORTER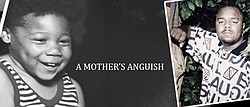 Photo
Lamont Stephen Brown at 4 and 33, when he lost his life as a result of stab wounds. He died Jan. 28, 2010.


Photo
Darold Shorter, 41, was arraigned Friday morning for the killing of Lamont Brown, 33. He was already in jail on an unrelated criminal charge when the arrest warrant was issued. The victim was found stabbed to death in his home on Earle Avenue on Jan. 28.
Aloma Brown will bury her son today, but she will have the small comfort in knowing that Youngstown police arrested a man they suspect killed him.
Brown, her mother Ethel Pusey, and a list of family and friends will gather at Sterling-McCullough Williams Funeral Home for a final farewell to Lamont Brown, 33.
Both women say the lack of Brown's presence in the family is evident every morning. He would check on Aloma, who is a dialysis patient, and Ethel, his grandmother who does not walk well, twice a day.
"My son was the first face I would see in the morning and the last face I would see at night," Aloma said. "He would come and check on me every morning to make sure I was OK, then check in again at night," Aloma said. Lamont was the oldest of two sons.
Brown was killed in his Earle Avenue home Jan. 28.
Police arrested Darold Shorter, 41, of West Earle Avenue, who lived a few houses from where Lamont Brown lived and was killed. Shorter appeared Friday for a video arraignment before Judge Robert Milich of Youngstown Municipal Court on charges of murder, possession of drugs and obstruction of justice.
Shorter had been in Mahoning County jail for one day before his arraignment while police tried to determine his true identity. He initially had given the name of a relative in an attempt to avoid prosecution on the murder charge, city prosecutors said.
Prosecutors told the judge that Shorter's criminal history includes aggravated robbery and grand theft. Judge Milich set bond at $1.1 million.
Police files show Shorter had been arrested in September 2009 on a charge of domestic violence after police said he grabbed a woman during an argument about money, then pointed a handgun in her face, threatening to shoot her.
Police also said Shorter was arrested for breaking into a church in 1994 for which he was sentenced to 18 months in prison.
Bassil Ally, a city prosecutor handling arraignments, told the court the state's case against Shorter concerning Brown's murder is solid.
"He did confess, and we do believe we have a strong case against him with respect to the murder," he told the judge before the issuance of the bond.
Police were sent to Lamont Brown's home in the 300 block of West Earle Avenue late last week. When officers arrived, they found a hysterical 24-year-old woman standing outside the home holding a baby and saying her boyfriend was inside lying on the floor covered in blood.
Officers found Brown dead. He had stab wounds to his chest, neck, back and face.
Aloma Brown said she has seen Shorter in the Earle Avenue area, but did not socialize with the man. She said Shorter did give her son a cell phone, with the expectation of payment at a later date, some time ago, but she did not believe the two men to be friends.
She said the cell phone was missing when her son was found in the home.
Aloma Brown said the family now has to try and make sense of what seems like a senseless crime — especially to Lamont's 9-year-old daughter and 3-year-old son. She said Lamont was a devoted father, and the children are struggling to understand his death.
"Lamont didn't bother anyone. If anything, he went out of his way to help people," she said. "Right now our difficulty is with his kids. They just want their dad."
jgoodwin@vindy.com