Fifth-graders learn about maturation

Photo
Neighbors | Shaiyla Hakeem.Dr. Eugene Mowad addresses a room full of fifth-graders on the natural changes they will soon experience while maturing. He is a 16 year Poland resident and an pediatrician at the Akron Children's Hospital.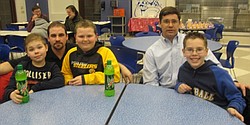 Photo
Neighbors | Shaiyla Hakeem.McKinley Elementary brought familys together for Father Son Night on Tuesday. Fifth-graders learned about the natural and normal maturing process..From the left: Alex Weimer, Joe Weimer, Zachary Cook, Ryan Hockensmith and Jacob Hockensmith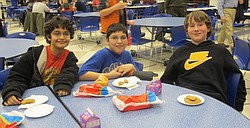 Photo
Neighbors | Shaiyla Hakeem.These fifth-graders are taking time to snack on cookies and juice after the Father Son Night on Tuesday. David Bovchedid (left), Vincent Davila (center) and Ryan George made sure they grabbed a free goodie bag containing additional information on maturation before they left the school cafeteria.
By SHAIYLA HAKEEM
shakeem@vindy.com
Students, fathers and grandfathers all came together to for a night of discovery and understanding.
McKinley Elementary sponsored its annual Father Son Night Tuesday where fifth-graders were enlightened on the natural and normal maturing process they will encounter. This informational event has been a tradition at McKinley for more than 25 years.
Dr. Eugene Mowad was the guest speaker for the night entertaining his listeners with a power point presentation. He is a pediatrician at the Akron Children's Hospital and has been a Poland resident for 16 years.
Mowad says that children can receive inaccurate information about puberty from older siblings, friends and the internet. He believes that the Father Son Night is an invaluable program at McKinley.
"It is critically important for these kids to learn about the changes they will soon experience," Mowad said, "They are confronted with sexuality and hormonal changes at a young age."
Mowad covered topics pertaining to physical and emotional changes that occur during puberty. Confidence, muscle mass and height are all positive changes during maturation, but Mowad was sure to cover problematic situations.
Tentacular cancer, hygiene needs and mood changes were areas Mowad told the students to pay particular attention to. Many kids seemed uneasy and nervous during some of the topics, but Mowad reassured the students throughout his presentation.
"This is a natural and normal process," he said, "I went through it, your father went through it and you will go through it, but you'll be just fine."
Mowad left time at the end of his presentation to answer questions from students and goodie bags containing Old Spice deodorant and an informational booklets on puberty were distributed.
Female students are not forgotten. McKinley will host Mother Daughter Night Feb. 23 at 6:30 p.m. mothers and daughters will receive information on the female maturation process.
Guest speaker will be Poland resident Lisa Young who is a professor at North Eastern Ohio University College of Medicine and at Youngstown State University.
More like this from vindy.com