Turner eligible to be Buckeye
By Ken Gordon
THE COLUMBUS DISPATCH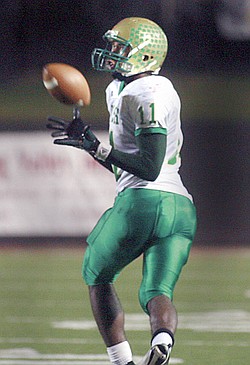 Photo
Jamel Turner catches a pass during a game against Cardinal Mooney in October 2007.
Ursuline's Jamel Turner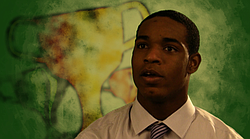 Video
What in the heck is the kid doing? Dan Reardon wondered.
The Ursuline High football coach was watching sophomore defensive end Jamel Turner during the first scrimmage of the 2007 season.
The opposing quarterback had dropped back, and Turner was just standing there at the line of scrimmage.
"I said, 'Jamel, go get the quarterback!' " Reardon said. "And he looked at me and said he thought he had to stay in his gap. He didn't know he could go get him.
"That's how raw his football knowledge was."
On the very next play, Turner sacked the quarterback. Blessed with "freakish' athletic ability, he would record 23 sacks that season.
Unfortunately, he was just as raw off the field, and it took a lot longer than one play for Turner to reverse that course.
Saddled with a rough family background and struggling with inner-city life, Turner eventually was kicked off the Ursuline basketball team and declared academically ineligible to play sports in his junior year.
It took some caring coaches and a detour to a military academy to get him back on track.
Two-and-a-half years after that 2007 scrimmage, Turner seems to have his life in order. He signed a letter of intent with Ohio State on Wednesday and will arrive in Columbus in June.
"Sometimes in life, you have obstacles," Turner said. "We all make bad decisions and make mistakes, but it's what you do after that."
Neither Turner nor those around him will discuss his family situation in any detail, but it is clear that he never had a strong father figure, and there were other negative influences, as well.
Instability at home manifested itself in immaturity and fits of temper, even as he led Ursuline to the 2008 Division V state championship, following up his 23-sack season in 2007 with another 18 sacks.
In December 2008, he became the first player to commit to Ohio State's 2010 class. But a month later, Ursuline basketball coach Keith Gunther had had enough of Turner's attitude.
"There were a couple incidents — nothing criminal, but when things didn't go his way, he would react very emotionally and just go off," Gunther said. "At the time, Jamel was living with me, he was basically like a son to me.
"And I told him, 'I'm going to treat you as if you were my own son,' and I kicked him off the team.
"The biggest reason I did it was Jamel was a big-time football player who probably thought he was bigger than life. I wanted to wake him up."
Said Turner: "That hurt a lot, but he did what he had to do.'
By spring, Turner's grades had declined to the point where he could not play sports in Ohio the next fall.
Even before that, though, Gunther and Reardon had started looking for places where Turner might go and get his life straightened out. They settled on Fork Union Military Academy, located in rural Virginia — about as foreign an environment as Turner could imagine.
"There are cows grazing across from our practice field," Fork Union prep football coach Micky Sullivan said.
Part of the culture shock for Turner was Sullivan himself, a self-described "gray and bald guy, 61 years old, not real cool."
But the structure, and being away from his former environment, did Turner a lot of good. Bright and articulate, he found his grades improving quickly once he actually did the work.
"Straight B's," he said, "and hoping to get some A's."
Sullivan said, "The kid is very smart, a great leader and loyal to a fault. We won't know until five years or farther down the road if all this stuff worked, but I think it's helped."
Back home, Gunther bursts with pride.
"He's going to be able to write a book someday," Gunther said. "The kid is doing phenomenal, and he's got a great story to tell."
Suddenly, many of the dozens of schools that had once recruited Turner started getting back in touch. But just as Ohio State never pulled its scholarship offer when he got into trouble, Turner would not be swayed from his original choice.
"[Coach Jim] Tressel is a good man, and he stands by his word," Turner said. "So I'm going to stand by my word, and we're going to get it done."