Web reviewers rank Boardman's Vintage Estate world's No. 1 beer retailer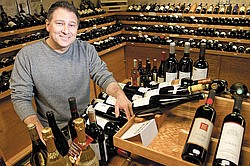 Photo
BEER RETAILER: Phill Reda, owner of Vintage Estate, poses with some of the more than 1,000 labels of wine in his beer and wine retailer operation. The company was named best beer retailer in the world by www.ratebeer.com.

Photo
The Vindicator/Geoffrey Hauschild.2.2.2010.President of Vintage Estate, Phil Reda, poses for a portait on Tuesday afternoon behind some of the 760 beers available at Vintage Estate along South Ave. in Boardman. The company was rated the number one beer retailer in the world by the web site www.ratebeer.com.
By RICK ROUAN
VINDICATOR STAFF WRITER
BOARDMAN — Vintage Estate didn't have a long climb, but it has reached the top of the mountain of beer retailers worldwide.
The company was named the No. 1 beer retailer in the world by the Web site www.ratebeer.com. Last year, Vintage Estate broke into the rankings at No. 2.
"I refer to it on the level of the Super Bowl of my business," said Phill Reda, owner of the company, which boasts nearly 800 craft beers and more than 1,000 labels of wine.
Reviewers for the Web site rate the establishment in six categories: ambiance, service, selection, food, value and overall. Many reviewers noted reasonable prices, knowledgeable staff and selection as reasons for their high ratings.
The rating is valuable, Reda pointed out, because it is unsolicited. Vintage Estate, 7317 South Ave., has no connection to www.ratebeer.com, he said.
In February 2008, Reda was in the midst of a corporate takeover of his old company, Cellular One. Reda ran several Cellular One stores in the area, but AT&T ordered him in a letter to shut his doors after the mega- company purchased the smaller cell-phone provider.
"Within 30 seconds, my company was gone," he said. "It was shock and awe."
The year was tumultuous for Reda, who dipped into his savings to avoid bankruptcy and had to watch his mother battle illness, he said.
But, months before Cellular One disappeared, Reda was sitting at the bar in Vintage Estate, talking to former owner Ron Bush about his vision for the establishment. If he owned the place, he said, he would knock out the north wall and build a beer lounge.
By October 2008, eight months after getting out of the cell-phone industry, Reda finalized the purchase of the business and set into motion his plans to build a tasting lounge.
"At the time, we had a little over 500 beer labels. Now we're pushing 800," he said. "We don't treat it like a bar. ... We want people to be able to try a lot of different craft beers and wine."
Reda knocked down the north wall, as planned, and opened The V.E. Tasting Lounge, a bar free of televisions, in May 2009. The lounge has 12 craft beers on tap, 13 wines on a rotating wine bar, 15 mead selections and 17 varieties of single-malt scotch. It also features a kitchen that makes flat-bread pizzas.
Vintage Estate also began having wine tastings and beer classes, Reda said.
Those changes, Reda said, likely helped elevate the business from No. 2 to No. 1 in the world.
Another reason for the status is the company's focus on customer service, Reda said.
Within seconds of a customer's entering the business, Reda said they should be greeted by a staff member, who will assist them in finding the drink that's right for them.
"Customers want counseled," he said. "What's got us to where we are is working hard to give every person who walks in our personal attention. That's a lost art."
About 90 percent of customers, Reda said, know very little about craft beer and wine, making it paramount for his staff to be knowledgeable and enthusiastic about the products.
That can be a challenge with such a large variety of drinks, from Youngstown's own Rust Belt brew to China's Tsingtao.
Prices in Vintage Estate range anywhere from around $1.10 all the way up to nearly $50 for a bottle of beer. The company offers a popular "build-a-six-pack" option too, Reda said.
"Everyone does the variety six pack," said Danny Catullo of Catullo Prime Meats in Boardman. "It's nice to have a beer you can't get anywhere else."
Catullo said he visits Vintage Estate about once every two weeks to have a beer and shop. He even concocted the recipe for a sauce on one of the business's flat-bread pizzas.
Reda said that he is already outgrowing his current space. He said he is having taller wine racks built to save floor space and plans to install eight more craft-beer taps and a Tuscan-style terrace inside to seat about 40 more people.
"There's no better spot than No. 1," he said. "Now I want to live up to the expectations."
rrouan@vindy.com