Brown to be executed today
A T-bone steak and ice cream were to be part of the killer's special meal.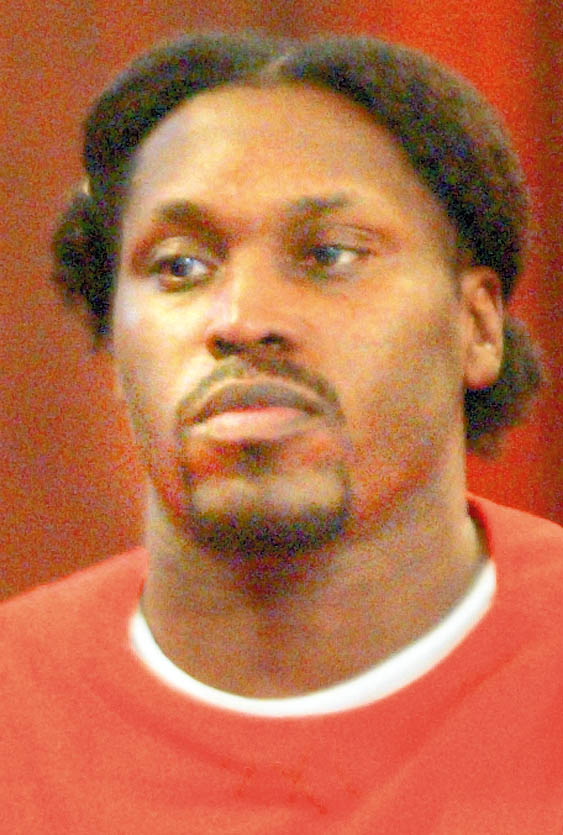 Photo
By MARC KOVAC
VINDICATOR CORRESPONDENT
COLUMBUS — Mark Aaron Brown spent much of Wednesday afternoon talking on the telephone with friends and his attorney in the hours leading up to his scheduled execution today.
Brown, 37, arrived at the Southern Ohio Correctional Facility just before 10 a.m., making the trip from death row at the Ohio State Penitentiary in Youngstown.
"They said his mood was very quiet, very cooperative," said Julie Walburn, spokeswoman for the Ohio Department of Rehabilitation and Correction.
Brown is set to be executed by lethal injection at 10 a.m. today, pending any last-minute court action. Gov. Ted Strickland denied his request for clemency late Wednesday afternoon, concurring with the unanimous recommendation of the state parole board.
Brown was convicted in the 1994 shooting deaths of Isam Salman and Hayder Al-Turk at the Midway Market in Youngstown.
Public defenders representing Brown said his former legal counsel mishandled the case and subsequent appeals and never fully investigated his innocence claims. They also said Brown's upbringing with a mother addicted to drugs should be considered.
But Mahoning County Prosecutor Paul Gains, representatives of the state attorney general's office and Salman's sister and several of his children urged the parole board to leave Brown's death sentence intact.
In mid-January, the parole board recommended, on a 6-0 vote, that Brown face death, noting that it found nothing "compelling" to support Brown's contention that he did not shoot Salman.
On Wednesday, prison staff completed mental health and vein assessments on Brown shortly after his arrival at the prison Death House. Walburn said staff identified veins in both arms.
He was allowed to keep clothing, a gold cross and chain, a compact disc player and six CDs, a Bible and a couple of religious books in the holding cell where he spent much of the day. He also kept two boxes of honey buns, a package of cookies and an orange soda.
During the morning, Brown spent time writing and watching television. He ate the standard prison-issue lunch — chicken tacos, pinto beans and tortillas.
From about noon until after 3 p.m., Brown spoke on the phone in separate calls to two friends and his attorney. For several hours Wednesday evening, he was set to have contact visits with a brother, his spiritual adviser and a sister.
Brown was also scheduled to eat a special meal that included a T-bone steak cooked well done, a double bacon cheeseburger with french fries and onion rings, 7-Up cake with lemon and vanilla frosting, rocky-road ice cream, potato chips and orange soda.
Brown will be offered breakfast at 5:30 a.m., then will be allowed cell-front visits with his family, friends, his legal counsel and clergy before preparations for the execution begin.
Brown's attorney and a spiritual adviser will witness the execution on his behalf; three members of Salman's family will witness on behalf of the victim.
Brown has requested that his body be cremated, and his remains are to be turned over to his sister.
---
MARK AARON BROWN
A timeline
An overview of events leading up to the execution of Mark Aaron Brown of Youngstown for two murders he committed in 1994:
Jan. 13: Ohio Parole Board recommends against clemency for Brown. Gov. Ted Strickland later accepts the board's recommendation.
Jan. 15: Ohio Public Defender's Office has hearing before Judge Maureen A. Sweeney of Mahoning County Common Pleas Court on Brown's request for a new trial based on new evidence.
Jan. 20: Judge Sweeney denies Brown's request for a new trial.
Jan. 22: Ohio Public Defender's Office appeals Judge Sweeney's ruling to the 7th District Court of Appeals.
Monday: Ohio Supreme Court refuses to delay Brown's execution as does U.S. District Judge Gregory Frost.
Tuesday: 7th District Court of Appeals hears oral arguments on whether Brown should get a new trial. The court denies him a new trial. Brown also files appeal with the 6th U.S. Circuit Court of Appeals in Cincinnati to delay his execution.
Wednesday: 6th U.S. Circuit Court of Appeals won't delay Brown's execution. Brown moved to Lucasville for his execution.
Today: Brown is scheduled to die by lethal injection.
Source: Vindicator files, AP