---
Wednesday, February 3, 2010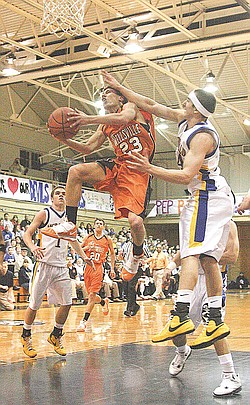 Photo
Michael Johnson (23) gets fouled on the way to the hoop by (24) Matthias Tayala during their game Tuesday night in McDonald.
McDONALD — On a night when the McDonald High boys basketball team didn't play very well it found a way to win its biggest game. (So far).
The Devils didn't shoot the ball well — they missed at least a dozen layups. They weren't very accurate from the foul line — just 22 of 40 from the stripe. And McDonald got out rebounded badly (41-33) on the boards.
But as usual, McDonald (15-0, 11-0) found a way to win.
The Devils, who are ranked third in the most recent Associated Press, Division IV state basketball poll, "willed" themselves to a 58-47 win over the Wellsville Tigers Tuesday night to remain in first place in the Inter Tri-County Tier Two standings.
The win was the 37th consecutive regular season win by McDonald.
One more win, Friday night at Southern, would all but wrap up another league championship for the Devils and coach Jeff Rasile.
So how did the Devils turn around a 12-point third quarter deficit against a Wellsville team that had only one loss — a 71-69 home loss to McDonald earlier this year — into an 11-point win?
"Attitude," said junior Nick Rota who spearheaded a second half comeback by scoring 11 of his 16 points in the final two quarters. "We never quit."
Rasile, who is like a sixth player on the floor for the Devils, looked like he played the entire 32 minutes in his sweat-soaked shirt when he described how his team came out of nowhere to find a way to win.
"These guys will themselves to do this all the time," Rasile hoarsely said following the game. "They showed a whole lot of heart and a whole lot of guts."
The Devils may have played as poorly a first half as they have all season.
Wellsville (13-2, 9-2) took it to McDonald from the start with strong rebounding, the ability to handle the Devils' defensive pressure and some good outside shooting by Mike Johnston and Jordan Dalrymple.
McDonald missed numerous layups and despite getting to the foul line, the Devils managed to make only 12 of 23 shots from the stripe.
"We could have been up at halftime by 10 if we make our layups and foul shots," Rasile said.
The Devils trailed the Tigers 34-24 at the break.
But instead of looking at a dejected bunch of athletes in the locker room at halftime, Rasile said he saw a determined look in the eyes of his players, a look he has seen before.
"It was incredible what we did in that second half," Rasile said. "That's a really good basketball team over there and we held them to 13 points.
"[Wellsville] probably is more talented than our team but my guys just find a way to get the job done."
When the Tigers went up by 12 points, 38-26, with six minutes left in the game it was game-on for the Devils.
McDonald went on a 12-0 run led by Rota, Kevin Bansberg and Mathias Tayala.
Before you knew it the score was tied at 38-38 on a basket by Tayala.
The teams traded scores until the game was knotted 45-45 midway through the fourth quarter and McDonald kicked in the defensive pressure one more gear.
McDonald went on another final 12-0 run by forcing Wellsville into six turnovers in the final four minutes and put the game away.
Wellsville committed 26 turnovers in the game.
"We self-destructed," said Wellsville coach David Thompson. "We couldn't handle their pressure in the second half. It was as simple as that."
Rota said it was just what the Devils do.
"We always believe we can win," Rota said. "We don't think we are ever out of a game."
Bansberg led the Devils in scoring with 18 points while Tayala added 17.