Friend hopes Facebook page forces suspect's extradition
The page contains photos of the pilot from his youth and more recently, plus letters written about him.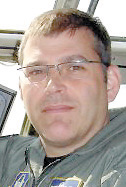 Photo
STAFF REPORT
NEWTON FALLS — Larry Diemand of Mentor believes that keeping his friend Karl Hoerig's memory alive on Facebook could help keep pressure on the Brazilian government until Brazil returns Claudia Hoerig to the United States.
Diemand, a retired lieutenant colonel in the U.S. Air Force Reserve, flew missions with Karl Hoerig while both were stationed at the Youngstown Air Reserve Station in Vienna.
Diemand created a Facebook page on the Internet that contains information about Hoerig's murder in March 2007 — www.facebook.com/group.php?gid=157834098234.
Diemand added photos of Hoerig and other reservists during the summer of 1997, when Hoerig was Diemand's co-pilot on combat support missions in Saudi Arabia and Kuwait.
The page, titled Justice for Karl Hoerig, also contains photos from Karl Hoerig's youth and more recently, and letters and other information from friends and relatives.
Karl Hoerig, 44, was a major in the Air Force Reserve who flew 200 combat missions. He was also a pilot with Southwest Airlines.
Trumbull County authorities have tried without success to bring Claudia Hoerig back to the United States to answer a murder charge accusing her of shooting Karl Hoerig to death at their Newton Falls home. She fled to her native Brazil just afterward, and Brazil refuses to extradite her.
Diemand says he's hopeful that as the 2016 summer Olympics in Rio de Janeiro draw closer, the country will begin to feel the pressure to live up to higher standards of justice and return Claudia Hoerig to the United States.
"The Brazilian government is protecting her, and as long as this is kept quiet, it will probably stay that way," Diemand said.
One thing Diemand hopes is that the page will eventually educate Brazilians about the injustice of Karl Hoerig's alleged killer being able to escape justice.
"I think from the sheer numbers and the way Facebook penetrates everything, the people in Brazil will eventually know about this," Diemand said.
More like this from vindy.com