---
Jump Stretch owner challenges traditional sprain treatment

Photo
The Vindicator/ Robert K. Yosay..Jump Stretch Inc. was founded by Dick Hartzell in 1980. Coach Hartzell, believes in a new way to combat aging and ankle injuries 01142010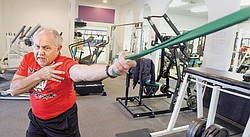 Photo
The Vindicator/ Robert K. Yosay..Jump Stretch Inc. was founded by Dick Hartzell in 1980. Coach Hartzell, believes in a new way to combat aging and ankle injuries 01142010
By WILLIAM K. ALCORN
VINDICATOR STAFF WRITER
When it comes to treating sprained ankles, "ice belongs in the Ice Age," says Richard Hartzell of Jump Stretch fame.
Ice is not only ineffective; it can actually delay the healing process from two to six weeks, he said, eschewing the traditional treatment for sprains and strains, which is RICE, an acronym for rest, ice, compression and elevation.
Hartzell, 70, owner of the Jump Stretch Fitness Center on Meridian Road in Austintown, said resistance to his ice ideas come primarily from doctors who follow the recommended protocol, which is RICE.
Protocol is a set of medical guidelines or rules for a medical treatment, which can carry the weight of law.
One thing Hartzell is definitely right about — not everyone agrees with him about the value of ice in treating sprains.
While he has doctors who endorse his theory, others believe just as strongly that RICE, or at least the ice portion of it, is the best treatment for sprains.
Dr. Edward McDevitt of Bay Area Orthopaedics and Annapolis Hand Center in Maryland says his experience has convinced him that ice is effective in reducing pain and swelling caused by sprains, and it does not inhibit healing.
Dr. McDevitt, a career Navy orthopedic surgeon and member of the American Academy of Orthopaedic Surgeons, said his treatment regimen is to immediately begin submerging the sprained ankle up to mid-calf for eight minutes four times a day.
"The athletes hate it because it hurts," said Dr. McDevitt, who is the Naval Academy's team doctor. But it works, he said.
What Dr. McDevitt said he agrees with Hartzell "100 percent" on is the need for movement.
"Instead of immobilizing the injured area in a cast, we use a brace or air cast that permits movement and gets them walking as soon as they can. It gets them back playing much faster than in the old days when sprains were immobilized," Dr. McDevitt said.
As a word of warning, Dr. McDevitt, said sprains in children should be examined by their family doctor or an orthopedist because in children in still-growing stage, fractures can more easily occur.
Ice brings down the swelling, helps get rid of the pain and does not delay healing, McDevitt said. Movement is the big thing, and while ice does constrict blood flow somewhat, it also allows movement, he said.
Patrick Ranalli, a therapist with Youngstown Physical Therapists, said he agrees with Hartzell on the most important thing, which Ranalli said is to keep the injured joint flexible.
"That's the name of the game ... flexibility, exercise and muscle re-education," Ranalli said.
In fact, Ranalli said he has recommended stretch band therapy to patients to continue their therapy on their own.
However, Ranalli differs with Hartzell's belief that ice is counterproductive.
"Dick and I have had this conversation about ice many times. I don't want to offend him or his ideas. Every practitioner has his own ideas and opinions. It is my experience in 28 years as a physical therapist that, while the effects of ice are short-lived and not a cure, ice is universally used to reduce pain and swelling," he said.
Still, Hartzell is convinced it is just a matter of time until his ideas are accepted.
"My theory is not yet protocol because there is no scientific research backing it up. That's why a study being done on the matter at Nationwide Children's Hospital in Columbus is so important to me," Hartzell said.
What is being studied at Nationwide Children's, said Jim Marrie, program physical therapist manager, is early mobility versus the traditional treatment for sprained ankles in children.
Marrie said the study should be completed in about a year, and until that time he said he would not speculate as to what it would show.
Hartzell has an ankle sprain acronym of his own, FAST, which stands for FlexBand Ankle Strengthening and Traction.
Unless the ankle or other joint involved is broken or extremely seriously sprained, Hartzell advocates to his clients compression instead of ice, and in place of rest, movement.
"We rest when we should be moving. Rest is for the deceased," he says in his self-published book on the subject, "Don't Ice that Ankle Sprain!," subtitled "The F.A.S.T. Approach to Preventing and Treating Sprained Ankles."
"Yes, I sell FlexBand products. But that is not the main reason I push F.A.S.T. as opposed to RICE," he said.
He uses his FlexBand products to achieve traction and compression treating sprains.
When I started rubber-band stretch training in the 1980s, I wanted to impact the world, and that happened. I ship FlexBand products all over the world," he said.
"My goal now is to impact the world by eliminating ice as the treatment for sprained ankles," said Hartzell, a former Youngstown State University football player who walked on as a placekicker in 1960.
Hartzell's missionary-like zeal is getting converts.
Dr. Michael Shimmel, a chiropractor from Stow, co-author with Hartzell on the book, "Don't Ice That Ankle Sprain," said he met Hartzell in 1996 and has been using his stretch bands ever since.
"I must tell you that the results are nothing short of amazing. The medical community waits until you are pain free, but we're a little more aggressive in our approach. Kids come in on crutches and walk out of the office without them. What we need, however, is more research to substantiate our claims," Shimmel said in a previous Vindicator story.
Dr. Tim McKnight, who wrote the foreword to Hartzell's book, published in 2006, said he has been using Hartzell's techniques for three or four years and is "more convinced than ever" that they are correct.
"I primarily use it for ankle sprains, bursitis of shoulder and arthritis of the knee, fingers, ankles and feet," Dr. McKnight said.
There are two basic principles involved, said Dr. McKnight: Traction, which removes pain and enhances lymphatic removal of inflammation and improves flexibility, and compression.
"What we think is happening with compression is that blood is squeezed out of the area and when the pressure is released, the influx of blood encourages the healing process. Where blood flow, which brings in oxygen and white and red blood cells, is highest, healing is quickest," he said.
"When you put an injured joint in a cast and say don't move to protect it from further injury, the cast shuts down blood flow so it takes much longer to heal. What we need to do is reduce the pain with compression and traction so the patient can do the movement. Using the joint the way it's intended further enhances the healing process" he said.
"You need inflammation. Some swelling is good; excessive swelling is bad. So we compress and traction and move the joint, thereby assisting the lymphatic vascular system in taking the swelling away.
"That is why Dick and I are so vocal about this. We think we are doing the right thing," said Dr. McKnight, who operates a wellness program. "I believe the body can heal itself," he said.