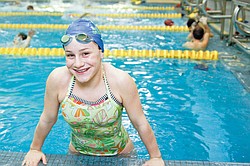 Photo
The Vindicator/Lisa-Ann Ishihara-- Gina Ungaro is a record-setting 10-year-old swimmer for the YMCA Y-Neptunes.
Gina Ungaro, a 10-year-old swimmer, is turning in some impressive feats for the YMCA Y-Neptunes.
By JOE SCALZO
Vindicator sports staff
The first time 10-year-old Gina Ungaro swam the breaststroke in competition, her coach, Sue Mellish, kept expectations low.
"I said, 'Just go race it, you have no idea [what will happen], who cares,' " recalled Mellish, grinning. "Then she goes and gets a zone time and beats it by two seconds.
"In swimming, that's a lot."
Zone times — which refer to qualifying times for the YMCA Great Lakes Zone championship, an annual five-state meet — are a big deal for youth swimmers.
They separate the "She's definitely not a threat to drown" swimmers from the "She has a future in this sport" swimmers.
Ungaro, a YMCA Y-Neptunes swimmer who just took up the sport two years ago, is definitely in the second category.
She has already qualified for this year's Zones in every event in her age group — the first Neptune swimmer to ever do so. She's also set a team or pool record in every dual meet this winter and was chosen to be on Ohio's USA QUAD team (which is a really big deal).
In short, she's not bad. One of her coaches, Stacy Sowers, has even given her the nickname "Gina the Machine-a" because she's a "machine in the water."
"The thing that's nice about her is she's very humble about it," said Mellish. "Like when she would get a fast time, she'd look up and I'd say, 'Gina, that was a zone time,' and she'd say, 'Oh, that's good, right?' "
And it's not just her. Ungaro's parents, Eric and Nanette, do the same thing.
"They're funny," Mellish said. "They keep asking me, 'She's doing good, right?' "
Ungaro started swimming on a whim — nobody else in her family swam, although her younger sister, Carly, started at same time — and tried the sport in part because some other activities didn't seem to be working out.
"We never thought we would take it seriously," said Ungaro, a fifth grader at Poland McKinley Elementary. "We kind of started just to get me in something because I did dance and I never really stuck with anything.
"Then I tried swimming and I really liked it, so we continued with that. When I was 9, I started to realize I could be good."
Ungaro had a terrific season last year, qualifying for four events at last March's zone meet. This year's meet takes place from March 19-21 at Bowling Green State University.
"Zones was the first time I ever went to something big," she said of last March's meet. "It was a lot of competition. It was a great experience.
"I messed up a little bit — it was my second year swimming — and I made some mistakes, but it was a lot of fun. This year I'm hoping to win the 50 freestyle. From what I've learned, I have a good shot."
She's off to a good start this winter, performing well at the QUAD meet earlier this month in Indianapolis. Only the top five swimmers in each age group in Ohio are chosen to go to QUADS.
Ungaro won the 50-yard freestyle (her best event), got second in the 100 butterfly, third in the 100 free, fourth in the 50 fly and fifth in the 50 breast.
"It was a great opportunity," she said. "Once I got there, I was really happy, but once it really hits you and you're on the block, you're like, 'Whoa, you're really here.'
"But after I swam and got used to it and made some friends, it was a lot of fun."
She credits her success to Mellish — "If I didn't have Sue, I wouldn't be where I'm at," she said — and Mellish, in turn, shrugs her shoulders and says, "She's just a natural. She was right out front from the get-go."
What's amazing is, most swimmers like Ungaro have been in the water for much longer. (Most of her competitors at big meets assume she's been swimming since age 3.) But she's not intimidated by more experienced swimmers, Mellish said.
"If somebody's set before her that's faster than her, she doesn't get too freaked about it," Mellish said. "She just rises to the occasion and says, 'OK, I'm going to give it a try.' "
Although Ungaro swims year round — she's a member of the Poland Swim Club in the summer — she's not just a swimmer. She also plays softball, soccer and a little bit of golf.
That variety keeps Ungaro from getting burned out.
"I think more than anything, she's having a lot of fun," said Mellish. "You can tell she's just one of the members of the team.
"She's just a regular schmo."
scalzo@vindy.com
More like this from vindy.com