Judge sets $3M bond for man accused of killing elderly woman
Arraignment for Jamar "Mook" Houser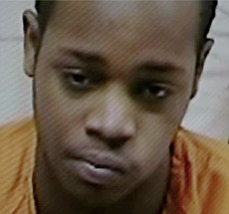 Video
Arraignment for Jamar "Mook" Houser
YOUNGSTOWN — A city man accused of gunning down an elderly woman in her church parking lot is being held in the Mahoning County Jail on a multimillion-dollar bond.
Jamar Houser, 18, of Volney Road, appeared today for video arraignment before Judge Robert Milich of Youngstown Municipal Court on charges of aggravated murder and aggravated robbery in the robbery and murder of 80-year-old Angeline Fimognari.
She was killed after she left morning services at St. Dominic Church, 77 E. Lucius Ave., on Jan. 23.
Houser entered no plea to the charges, but told the court he had no income, is supported by his parents, and would therefore need a court-appointed attorney.
Houser also asked the judge to set "a reasonable bond." After prosecutor's read off the 18-year-old's past criminal record, the judge saw $3 million as a reasonable bond.
For more on this story, see Tuesday's Vindicator and Vindy.com