Dogs, bees and Easter Seals aid in rehabilitation therapy
Easter Seals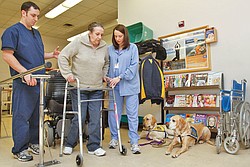 Gallery
Easter Seals Disability Services Center for Rehabilitation helps people in Mahoning, Trumbull and Columbiana counties with physical and mental challenges to become more capable of leading full and independent lives.
Easter Seals provides programs and services to adults and children with special needs. The rehabilitation center is in Youngstown at 299 Edwards St.
Diane Burns of Coitsville is one of its clients. She was diagnosed with multiple sclerosis in 1985.
MS is an inflammatory disease of the central nervous system, also considered the disease of the "white matter" tissue. The white matter, or fatty myelin sheaths around the brain and spinal cord, are damaged. Nerve cells cannot properly communicate.
Burns has been coming to Easter Seals for five to six years. Since 2004, her disease has been improving with help from physical therapists and bee-venom therapy at home. The stings of live bees relieve MS symptoms such as pain, loss of coordination and muscle weakness.
Burns also has dogs to aid her.
Two golden Labrador retrievers accompany Burns to Easter Seals — 7-year-old Santo and 11-month-old Jaco. The dogs are in Canine Companions for Independence of Delaware, Ohio, which provides highly trained dogs to assist children and adults with disabilities at no charge.
Burns volunteers and has trained several dogs for the program over the years. They arrive to her at 8 weeks old, and over the course of nearly two years, their temperament and learning abilities are put to the test.
By the time they graduate, the dogs know 70-plus commands, and they must mind their manners. They are not allowed to bark in public, only if commanded, and they can throw away trash.
Santo, for example, can pick up an item, carry small bags and open and close doors, drawers and cupboards. He can even open a refrigerator and bring packaged food to Burns. Jaco is in training to provide the same assistance.
Burns said she "owes getting better to God, the bees and the dogs" — plus, with Easter Seals, the combination has meant a more independent life.
XFor information on fundraisers, go to www.mtc.easterseals.com.