Judge joins hunt, finds barefoot escaped teen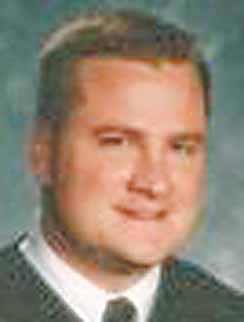 Photo
Columbiana County Juvenile Court Judge Thomas Baronzzi
LISBON
A judge dispensed mercy when he joined a search and found an escaped youth who was wandering shoeless in frigid weather.
Columbiana County Juvenile Court Judge Thomas Baronzzi on Tuesday put on his hunting clothes and joined the search for the boy, who had bolted from his court.
The 17-year-old had been brought back to the county from a youth-detention facility in Canton.
As he left the juvenile court building in Lisbon, he took off his issued synthetic shoes and ran off at about 10:30 a.m.
"He was handcuffed so I thought 'He won't go far,'" said Judge Baronzzi, who is also the county's probate court judge.
The youth's hands were cuffed in front of him as he walked through creeks in his socks.
The judge said that at one point during the search, the youth got into an unlocked motor home. As police moved in, he dropped out of the bottom of the home, took off running and got away.
Judge Baronzzi said he waited for a call that the boy had been captured, but the call didn't come so he went looking.
The judge checked several places where the boy had been seen. He saw the youth on private property near the entrance to the Columbiana County Career and Technical Center at 9364 state Route 45.
"I told him there was no place to go," the judge said.
The youth was upset.
The judge said that the boy had his arms wrapped around his waist to cover up the handcuffs.
The judge told the youth he might die out in cold.
He asked the boy to get in his car, but the juvenile took off again. The temperature was about 20 degrees.
The judge caught up with him and asked him to get in the car. The youth did and they went back to the court.
"When we got there, he got out and thanked me," he said.
When the boy finally gave up, his body temperature was 95 degrees and he was going into hypothermia.
Judge Baronzzi said that he may have to recuse himself from hearing the case.
The youth had been charged with striking a staff worker and a sheriff's deputy at the Canton facility. The original charge against him was not disclosed. The youth was ordered returned to the Canton facility. He will now face a third-degree felony charge of escape.