Sizing up the facts: WGH beats SVSM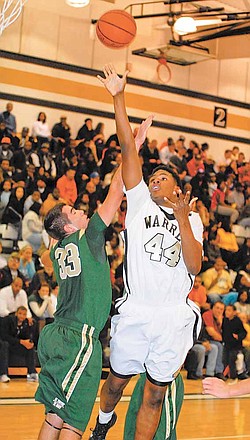 Photo
Warren Harding's #44Craig McFerrin puts up a shot over St. V defender #33 Oliver Hidebrandt.
GAME TIME
Next: Harding at Can. McKinley, Jan. 8, 7:30 p.m.
By Doug Chapin
WARREN
Height, size, length — whatever term one uses, most would agree that it is a plus to have very tall people on a basketball team.
Warren Harding's 2011 team illustrates well that basketball fact. In Tuesday night's 70-65 victory over Akron St. Vincent-St. Mary, the Raiders' height advantage was on display. Sixty of Harding's points were scored by players 6-foot-5 or taller and the Raiders (5-1) held a 37-20 edge in rebounds.
"The advantage we have is size, there is no substituting size," Harding coach Steve Arnold said. "Shaheed [Davis] came off the bench and played well, this was his best game of the year. Craig [McFerrin]as his solid self inside and Rashid [Gaston] gave us good minutes.
"When we get the ball inside and take care of the basketball we're a hard team to beat."
McFerrin, a 6-7 senior, scored 21 points and grabbed 11 rebounds, and 6-5 senor guard Tre' Brown tallied 20 points while dishing out five assists. Off the bench, 6-8 junior Davis had 16 points and eight rebounds, and 6-6 junior Gaston tallied three points.
The Raiders led 29-28 at halftime and increased it to 54-49 after three quarters. Brown then took over, scoring 10 of Harding's 16 points in the final quarter. The Raiders held leads of 60-49 at the 5:00 mark and 68-56 with 1:04 remaining.
"Tre is a senior, a three-year letterman, the only player with varsity experience, and he's only doing what he is supposed to do," Arnold said. "He knows that, and that's what prime-time players are supposed to do."
St. Vincent-St. Mary is no ordinary 3-5 team. Those that have beaten the Irish include Lakewood St. Edward, DeMatha Catholic of Hyattsville, Md., and Gateway of Monroeville, Pa.
DaVonte Beard scored 21 points, Khristian Taylor had 12 and Richard Johnson Jr. 11 for the Irish.
"St. Vincent has two kids, Beard and Johnson, who are being recruited at the Division I level," Arnold said. "They can play. Their record is deceiving, they have a very difficult schedule. Don't be surprised if they end up in Columbus in Division II."
A major disappointment for the Raiders is their continuing struggles at the free throw line. Coming into the game with a 57 percent mark from the line, Harding made just six-of-19 against the Irish.