No. 9: Jones, McCarthy live NFL dreams

Photo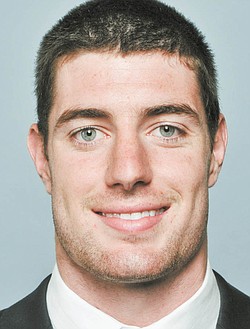 Photo
Donald Jones and Kyle McCarthy didn't let a draft snub affect their NFL dreams.
Jones, a wide receiver out of Youngstown State, and McCarthy, a defensive back from Cardinal Mooney and Notre Dame, signed undrafted free agent contracts after going unselected in April's NFL draft.
They immediately made an impact, with Jones making the Buffalo Bills out of training camp and earning a spot in the starting lineup midway through the season less than a year after leading the Penguins in catches and receiving yards. More impressive, it came during the same month he became a first-time father.
"I knew I had a lot of work to do to make the team," Jones said at the time. "I wasn't going to let anyone outwork me."
McCarthy needed a few more weeks, joining the Denver Broncos' practice squad after being cut in August. The move came as no surprise to Notre Dame fans, who had watched McCarthy lead the Irish in tackles the previous two seasons.
"I really feel like this is just the beginning," McCarthy said at the time.
He went out and proved it, earning a spot on the active roster in mid-October. Alas, his season ended in Week 14 when he was placed on injured reserve with a right knee injury.
McCarthy was the fifth Mahoning County native to play for an NFL team this fall. There are six Trumbull County natives who have played in the NFL in 2010, with Jones and Colts WR Pierre Garcon (Mount Union) hailing from local colleges.