No. 8: TOTV succeeds in second year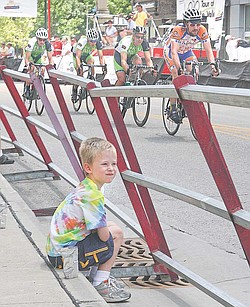 Photo
Jason Sweder from Boardman takes in The Tour of the Valley bicycling criterium in downtown Youngstown on Sunday afternoon. He was oneof many spectators who visited the downtown area to take in the annual cycling- stage event. The tour, which began Friday, was part of The Biggest Weekend of Summer celebration.
The second Tour of the Valley in July attracted cyclists from several states as well as curious spectators for an event that organizers hope will continue to grow.
"The riders doubled this year and they brought more people as well," organizer Dan Quinlan said following the 2010 edition.
"When you get people coming downtown like this for a pro race, see the community coming together and get feedback from riders, it's worth it," Quinlan said of the commitment.
Along with his wife, Erin, Dan Quinlan is a co-director.
Joey Rosskopf was the overall winner for a second straight year. Behind Rosskopf, a 20-year-old University of Georgia student, was Matt Cooke, Rosskopf's Mountain Khakis Fueled by Jittery Joe's teammate.
Lance Johnson of Buffalo was Cat 3 winner and James Thompson, also of Buffalo, won Cat 4 & 5. Gray Patton nipped Sally Price for the women's overall laurels.
The three-day event, composed of a time trial, criterium and road race, is the Quinlans' brainchild. Off the course, through their Carbon Racing enterprise, the Quinlans endeavor to address environmental issues. To that end, Carbonfund.org presented the Tour of the Valley with a carbon offset certificate for offsetting 34.04 tons of C02 emissions.
TOTV website: tourofthevalley.com indicates that the event will return for a third year in 2011 on July 9-11.